Nothing to write home about
18th January 1996
Page 21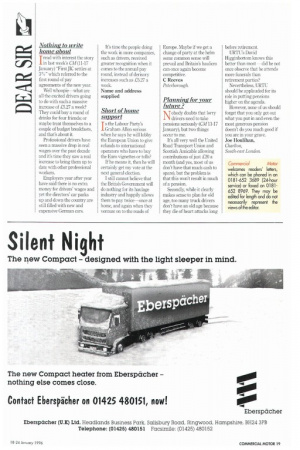 Page 21, 18th January 1996 —
Nothing to write home about
Close
Tread with interest the story in last week's CM (11-17 January) "First JIC settles at 3%" which referred to the first round of pay agreements of the new year.
Well whoopie—what are all the excited drivers going to do with such a massive increase of £5.27 a week? They could buy a round of drinks for four friends; or maybe treat themselves to a couple of budget breakfasts, and that's about it.
Professional drivers have seen a massive drop in real wages over the past decade and it's time they saw a real increase to bring them up to date with other professional workers.
Employers year after year have said there is no extra money for drivers' wages and yet the directors' car parks up and down the country are still filled with new and expensive German airs.
It's time the people doing the work in more companies, such as drivers, received greater recognition when it comes to the annual pay round, instead of derisory increases such as £5.27 a week.
Name and address supplied
Short of home support
Ts the Labour Party's .Graham Allen serious when he says he will lobby the European Union to give refunds to international operators who have to buy the Euro vignettes or tolls?
If he means it, then he will certainly get my vote at the next general election.
I still cannot believe that the British Government will do nothing for its haulage industry and happily allows
them to pay twice once at home, and again when they venture on to the roads of Europe. Maybe if we get a change of party at the helm some common sense will prevail and Britain's hauliers can once again become competitive.
C Reeves Peterborough.
Planning for your future ?
Nobody doubts that lorry drivers need to take pensions seriously (CM11-17 January), but two things occur to me.
It's all very well the United Road Transport Union and Scottish Amicable allowing contributions of just £20 a month (and yes, most of us don't have that much cash to spare), but the problem is that this won't result in much of a pension.
Secondly; while it clearly makes sense to plan for old age, too many tuck drivers don't have an old age because they die of heart attacks long before retirement.
URTU's David Higginbottom knows this better than most —did he not once observe that he attends more funerals than retirement parties?
Nevertheless, -MTh should be applauded for its role in putting pensions higher on the agenda.
However, none of us should forget that you only get out what you put in and even the most generous pension doesn't do you much good if you are in your grave.
Joe Houlihan, Chariton, South-east Londoa