51 he things they write books about. Relaxing by a
18th January 1996
Page 20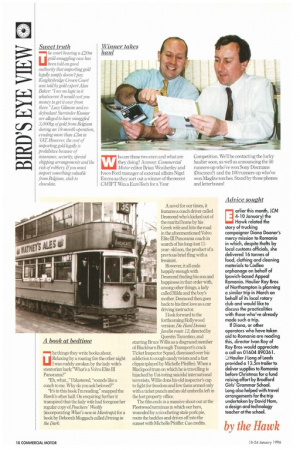 Page 20, 18th January 1996 —
51 he things they write books about. Relaxing by a
Close
roaring fire the other night I was rudely awoken by the lady wife's stentorian bark:"What's a Volvo Elite III Panorama?"
"Eh, what..." I blustered, "sounds like a coach tome. Why do you ask beloved?"
"It's in this book I'm reading," snapped the Hawk's other half. On enquiring further it transpired that the lady wife had foregone her regular copy of Poachers' Weekly (incorporating What's new in Mantraps) for a book by Deborah Moggach called Driving in the Dark. A novel for our times, it features a coach driver called Desmond who's kicked out of the marital home by his Greek wife and hits the road in the aforementioned Volvo Elite In Panorama coach in search of his long-lost 11yearold son, the product of a previous brief fling with a However, it all ends happily enough with Desmond finding his son and happiness in that order with, among other things, a lady called Hilda and the boy's mother. Desmond then goes back to his first love as a car driving instructor.
I look forward to the forthcoming Hollywood version: Die Hard Dennis Javelin route 12, directed by Quentin Tarantino, and starring Bruce Willis as a disgraced member of Blackburn Borough Transport's crack Ticket Inspector Squad, dismissed over his addiction to cough candy twists and a fast clippie (played by Michelle Pfeiffer). When a Blackpool tram on which he is travelling is hijacked by Uzi-toting suicidal international terrorists, Willis dons his old inspector's cap to fight for freedom and low fares armed only with a ticket punch and an old umbrella left in the lost property office.
The film ends in a massive shoot-out at the Fleetwood terminus in which our hero, wounded by a ricocheting stale pork pie, routs the baddies and drives off into the sunset with Michelle Pfeiffer. Cue credits.