Banned haulier gets an interim 0-licence
18th January 1996
Page 19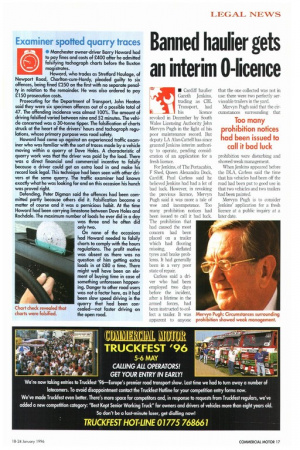 Page 19, 18th January 1996 —
Banned haulier gets an interim 0-licence
Close
• Cardiff haulier Gareth Jenkins, trading as CBL Transport, had his licence revoked in December by South Wales Licensing Authority John Mervyn Pugh in the light of his poor maintenance record. But deputy LA Alan Cattell has since granted Jenkins interim authority to operate, pending consideration of an application for a fresh licence.
For Jenkins, of The Portacabin, F Shed, Queen Alexandra Dock, Cardiff, Paul Carless said he believed Jenkins had had a lot of bad luck However, in revoking the previous licence, Mervyn Pugh said it was more a tale of woe and incompetence. Too many prohibition notices had been issued to call it bad luck. The prohibition that had caused the most concern had been placed on a trailer which had flooring missing, deflated tyres and brake problems. It had generally been in a very poor state of repair.
Carless said a driver who had been employed two days before the incident, after a lifetime in the armed forces, had been instructed to collect a trailer. It was apparent to anyone
that the one collected was not in use: there were two perfectly serviceable trailers in the yard.
Mervyn Pugh said that the circumstances surrounding that prohibition were disturbing and showed weak management.
When Jenkins appeared before the DLA, Carless said the time that his vehicles had been off the road had been put to good use in that two vehicles and two trailers had been painted, Mervyn Pugh is to consider Jenkins' application for a fresh licence at a public inquiry at a later date.