Tachos were switched off
18th January 1996
Page 18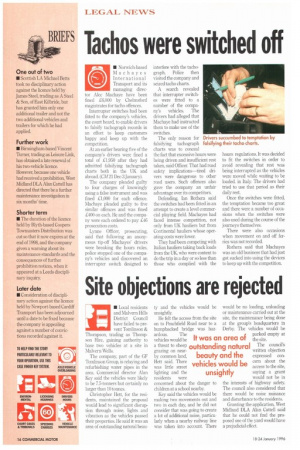 Page 18, 18th January 1996 —
Tachos were switched off
Close
• Norwich-based Machayes International Transport and its managing director Alec Machaye have been fined £6,000 by Chelmsford magistrates for tacho offences.
Interrupter switches had been fitted to the company's vehicles. the court heard, to enable drivers to falsify tachograph records in an effort to keep customers happy and keep up with the competition.
At an earlier hearing five of the company's drivers were fined a total of £1,950 after they had admitted falsifying tachograph charts both in the UK and abroad. (CM 21 Dec-3 January).
The company pleaded guilty to four charges of knowingly using a false instrument and was fined £1,000 for each offence. Machaye pleaded guilty to five similar offences and was fined £400 on each. He and the company were each ordered to pay £46 prosecution costs.
Lynne Officer, prosecuting, said that following an anonymous tip-off Machayes' drivers were breaking the hours rules, police stopped one of the company's vehicles and discovered an interrupter switch designed to interfere with the tachograph. Police then visited the company and seized tacho charts.
A search revealed that interrupter switches were fitted to a number of the company's vehicles. The drivers had alleged that Machaye had instructed them to make use of the switches.
The only reason for falsifying tachograph charts was to conceal the fact that excessive hours were being driven and insufficient rest taken, said Officer. That had road safety implications—tired drivers were dangerous to other road users. Such offences also gave the company an unfair advantage over its competitors.
Defending, Ian Rothera said the switches had been fitted in an attempt to create a level commercial playing field. Machayes had faced intense competition, not only from UK hauliers but from Continental hauliers whose operating costs were lower.
They had been competing with Italian hauliers taking back loads from the UK, who were content to do the trip in a day or so less than those who complied with the
hours regulations. It was decided to fit the switches in order to avoid revealing that rest was being interrupted as the vehicles were moved while waiting to be loaded in Italy The drivers had tried to use that period as their daily rest.
Once the switches were fitted, the temptation became too great and there were a number of occasions when the switches were also used during the course of the journeys themselves.
There were also occasions when movement on and off ferries was not recorded.
Rothera said that Machayes was an old business that had just got sucked into using the devices to keep up with the competition.