Diesel Hijet to boost sales
18th January 1996
Page 10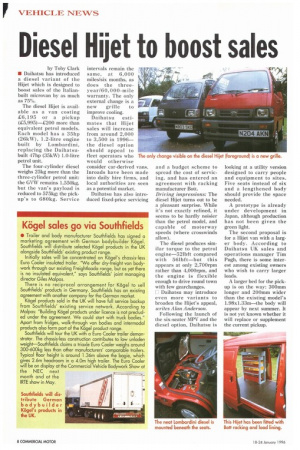 Page 10, 18th January 1996 —
Diesel Hijet to boost sales
Close
by Toby Clark • Daihatsu has introduced a diesel variant of the Hijet which is designed to boost sales of the Italianbuilt microvan by as much as 75%.
The diesel Hijet is available as a van costing £6,195 or a pickup (£5,995)—£200 more than equivalent petrol models. Each model has a 35hp (26kW), 1.2-litre engine built by Lombardini, replacing the Daihatsubuilt 47hp (35kW) 1.0-litre petrol unit.
The four-cylinder diesel weighs 25kg more than the three-cylinder petrol unit: the GVW remains 1,550kg, but the van's payload is reduced to 575kg; the pickup's to 680kg. Service intervals remain the same, at 6,000 miles/six months, as does the threeyear/60,000-mile warranty. The only external change is a new grille to improve cooling.
Daihatsu estimates that Hijet sales will increase from around 2,000 to 3,500 in 1996— the diesel option should appeal to fleet operators who would otherwise consider car-derived vans. Inroads have been made into daily hire firms, and local authorities are seen as a potential market.
Daihatsu has also introduced fixed-price servicing and a budget scheme to spread the cost of servicing, and has entered an agreement with racking manufacturer Bott.
Driving impressions: The diesel Hijet turns out to be a pleasant surprise. While it's not exactly refined, it seems to be hardly noisier than the petrol model, and capable of motorway speeds (where crosswinds allow).
The diesel produces similar torque to the petrol engine-521bft compared with 561bft—but this appears at only 2,700rpm rather than 4,000rpm, and the engine is flexible enough to drive round town with few gearchanges.
I Daihatsu may introduce even more variants to broaden the Hijet's appeal, writes Alan Anderson.
Following the launch of the six-seater 1VIPV and the diesel option, Daihatsu is looking at a utility version designed to carry people and equipment to sites. Five seats instead of six and a lengthened body should provide the space needed.
A prototype is already under development in Japan, although production has not been given the green light.
The second proposal is for a Hijet van with a larger body. According to Daihatsu UK sales and operations manager Tim Pugh, there is some interest among existing owners who wish to carry larger loads.
A larger bed for the pickup is on the way: 300mm longer and 200mm wider than the existing model's 1.98x1.33m—the body will appear by next summer. It is not yet known whether it will replace or supplement the current pickup.