A NEW MOBILE SHOVEL.
18th January 1935
Page 36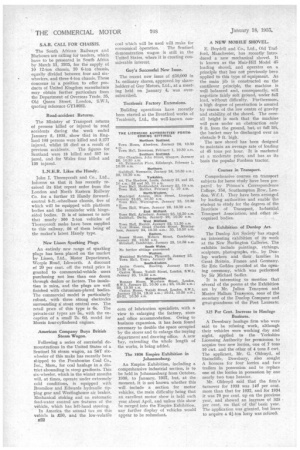 Page 36, 18th January 1935 —
A NEW MOBILE SHOVEL.
Close
E. Boyden and Co., Ltd., Old Trafford, Manchester, has recently introduced a new mechanical shovel, It is known as the Muir-Hill Model 45 loading shovel, and operates on •a principle that has not previously been applied to this type of equipment. As the main jib is constructed on the cantilever principle, the machine is well balanced and, consequently, will negotiate fairly soft ground, under full load, without difficulty. Furthermore, a high degree of penetration is assured by reason of the low centre of gravity and stability of the shovel. The overall height is such that the machine will pass under an obstruction only 8 ft. from the ground, but, at full lift. the bucket may be discharged over an obstacle 9 ft. high.
The new shovel has been designed to maintain an average rate of loading of 45 tons per hour. It is marketed at a moderate price, and has as its basis the popular Fordson tractor.
Courses in Transport.
Comprehensive courses on transport subjects for home study have been prepared by Pitman's Correspondence College, 154, Southampton Row, London, W.C.1. They have been arranged by leading authorities and enable the student to study for the degrees of the Institute of Transport, Industrial, Transport Association, and othersecognized bodies.
An Exhibition of Dunlop Art.
The Dunlop Art Society has staged an interesting exhibition of its work at the New Burlington Galleries. The exhibits include paintings, etchings, sculpture, photographs, etc., by Dunlop workers and their families in Great Britain, France and Germany. Sir Eric Geddes presided at the opening ceremony, which was performed by Sir Michael Sadler.
It is interesting to mention that several of the poems at the Exhibition are by Mr. Julian Tennyson and Master Hallam Tennyson, sons of the secretary of the Dunlop Company and great-grandsons of the Poet Laureate.
325 Per Cent. Increase in Haulage Business.
A Dewsbury haulage firm who were said to be refusing work, although their vehicles were working day and night, applied to the Yorkshire Licensing Authority for permission to acquire two new lorries, one of 7 tons 10 cwt. and the other of 4 tons 5 cwt. The applicant, Mr. G. Oldroyd, of Staincliffe, Dewsbury, also sought A licences for four lorries and two trailers in possession and to replace one of the lorries in possession by one nearly two tons heavier.
Mr. Oldroyd said that the firm's turnover for 1933 was 140' per cent. more than that for 1932, and for 1934 it was 70 per cent, up on the previous year, and showed an increase of 325 • per cent, on that of the" basic year. The application was granted, but leave to acquire a 4i-ton lorry was refused.