Speeds rise 'will stick'
18th February 1984
Page 5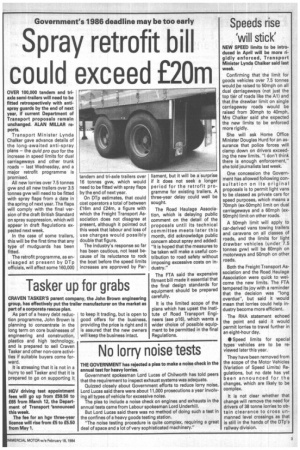 Page 5, 18th February 1984 —
Speeds rise 'will stick'
Close
NEW SPEED limits to be introduced in April will be more rigidly enforced, Transport Minister Lynda Chalker said last week.
Confirming that the limit for goods vehicles over 7.5 tonnes would be raised to 50mph on all dual carriageways (not just the top tier of roads like the Al) and that the drawbar limit on single carriageway roads would be raised from 30mph to 40mph, Mrs Chalker said she expected the new limits to be enforced more rigidly.
She will ask Home Office Minister Douglas Hurd for an assurance that police forces will clamp down on drivers exceeding the new limits. "I don't think there is enough enforcement," she told journalists last week.
One concession the Government has allowed following consultation on its original proposals is to permit light vans to be classed as private cars for speed purposes, which means a 70mph (ex-50mph l limit on dual carriageways and a 60nnph (ex50mph) limit on other roads.
A 50mph limit will apply to car-derived vans towing trailers and caravans on all classes of roads, and the limits for light drawbar vehicles (under 7.5 tonnes gvw) will be 60mph on motorways and 50mph on other roads.
Both the Freight Transport Association and the Road Haulage Association were quick to welcome the new limits. The FTA tempered its joy with a reminder that the decision was "long overdue", but said it would mean that lorries could help industry become more efficient.
The RHA statement echoed the point and said it would permit lorries to travel further in an eight-hour day.
• Speed limits for special types vehicles are to be reviewed later this year.
They have been removed from the scope of the Motor Vehicles (Variation of Speed Limits) Regulations, but no date has yet been announced for the changes, which are likely to be complex.
It is not clear whether that change will remove the need for drivers of 38 tonne lorries to obtain clearance to cross unmanned level crossings as that is still in the hands of the DTp's railway division.