Carryfast go it alone
18th February 1984
Page 37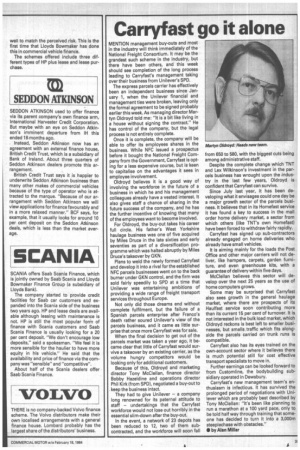 Page 37, 18th February 1984 —
Carryfast go it alone
Close
MENTION management buy-outs and most in the industry will think immediately of the National Freight Consortium. It may be the grandest such scheme in the industry, but there have been others, and this week should see completion of the long process leading to Carryfast's management taking over their business from Unilever's SPD.
The express parcels carrier has effectively been an independent business since January 1, when the Unilever financial and management ties were broken, leaving only the formal agreement to be signed probably earlier this week. As managing director Martyn Oldroyd told me: "It is a bit like living in a house without signing the contract." He has control of the company, but the legal process is not entirely complete.
Once it is complete, the company will be able to offer its employees shares in the business. While NFC issued a prospectus before it bought the National Freight Company from the Government, Carryfast is opting for a less expensive course, but is keen to capitalise on the advantages it sees in employee involvement.
Oldroyd believes it is a good way of involving the workforce in the future of a business in which he and his management colleagues already have a vested interest. It also gives staff a chance of sharing in the future success of the company, and he has the further incentive of knowing that many of the employees want to become involved.
For Oldroyd, the buy-out takes his career full circle. His father's West Yorkshire haulage business was one of five acquired by Miles Druce in the late sixties and early seventies as part of a diversification programme which was halted abruptly by Miles Druce's takeover by G KN.
Plans to weld the newly formed Carryfast and develop it into a rival for the established NFC parcels businesses went on to the back burner under GKN control, and the firm was sold fairly speedily to SPD at a time that Unilever was entertaining ambitions of providing a wide range of freight transport services throughout Europe.
Not only did those dreams end without complete fulfilment, but the failure of a Spanish parcels enterprise after Franco's death rather soured Unilever's view of the parcels business, and it came as little surprise that once more Carryfast was for sale.
When the final decision to get out of the parcels market was taken a year ago, it became clear that little of Carryfast would survive a takeover by an existing carrier, as the volume hungry competitors would be looking only for additional customers.
Because of this, Oldroyd and marketing director Tony McClellan, finance director Bobby Hazeldine and operations director Phil Kirk (from SPD), negotiated a buy-out to keep the business intact.
They had to give Unilever — a company long renowned for its paternal attitude to staff — undertakings that the Carryfast workforce would not lose out horribly in the essential slim-down after the buy-out.
In the event, a network of 23 depots has been reduced to 12, two of them subcontracted, and the workforce will soon fall from 650 to 580, with the biggest cuts being among administrative staff.
Despite the complete change which TNT and Lex Wilkinson's investment in the parcels business has wrought upon the industry in the last few years, Oldroyd is confident that Carryfast can survive.
Since July last year, it has been developing what it envisages could one day be a major growth sector of the parcels business. It believes that in its Homefast service it has found a key to success in the mail order home delivery market, a sector from which others (like TNT's own Homefast) have been forced to withdraw fairly rapidly.
Carryfast has signed up sub-contractors already engaged on home deliveries who already have small vehicles.
It is aiming mainly for the loads the Post Office and other major carriers will not deliver, like hampers, carpets, garden furniture, and even greenhouse kits, with a guarantee of delivery within five days.
McClellan believes this sector will develop over the next 25 years as the use of home computers grows.
Some may be surprised that Carryfast also sees growth in the general haulage market, where there are prospects of its Haulfast service soon contributing more than its current 15 per cent of turnover. It is not interested in the bulk load market, which Oldroyd reckons is best left to smaller businesses, but smalls traffic which fits alongside the parcels carried on trunk runs is compatible.
Carryfast also has its eyes trained on the own-account sector where it believes there is much potential still for cost effective transport specialists to move in.
Further earnings can be looked forward to from Customline, the bodybuilding subsidiary operated in Dewsbury.
Carryfast's new management team's enthusiasm is infectious. It has survived the prolonged period of negotiations with Unilever which are probably best described by Tony McClellan: "It's been like planning to run a marathon at a 100 yard pace, only to be told half way through training that someone has decided to turn it into a 3,000m steeplechase with obstacles."
• by Alan Millar