Dawn-run triumphs
18th February 1984
Page 21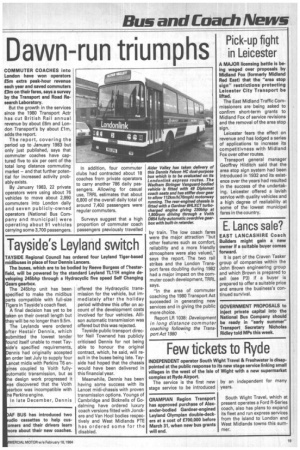 Page 21, 18th February 1984 —
Dawn-run triumphs
Close
COMMUTER COACHES into London have won operators £5m extra peak-hour revenue each year and saved commuters £3m on their fares, says a survey by the Transport and Road Research Laboratory.
But the growth in the services since the 1980 Transport Actr has cut British Rail annual revenue by about £6m and London Transport's by about Lim, adds the report.
The report, covering the period up to January 1983 but only just published, says that commuter coaches have captured five to six per cent of the total long distance commuting market — and that further potential for increased activity probably exists.
By January 1983, 22 private operators were using about 76 vehicles to move about 2,990 commuters into London daily and seven publicly-owned operators (National Bus Company and municipal) were operating about 91 vehicles carrying some 3,700 passengers. In addition, four commuter clubs had contracted about 18 coaches from private operators to carry another 786 daily passengers. Allowing for casual use, TRRL estimates that about 6,800 of the overall daily total of around 7,400 passengers were regular commuters.
Surveys suggest that a high proportion of commuter coach passengers previously travelled by train. The low coach fares were the major attraction "but other features such as comfort, reliability and a more friendly atmosphere were also valued," says the report. The two rail strikes and the London Transport fares doubling during 1982 had a major impact on the commuter coach development, TRRL says.
"In the area of commuter coaching the 1980 Transport Act succeeded in generating new services and in giving the public more choice.
Report LR 1038: Development in long distance commuter coaching following the Transport Act 1980