GKN modernis( prop shafts
18th February 1984
Page 18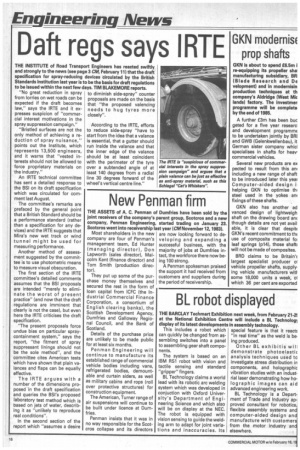 Page 18, 18th February 1984 —
GKN modernis( prop shafts
Close
GKN is about to spend £6.5m i re-equipping its propeller shar manufacturing subsidiary, BR (Blade Research and De velopment) and in modernisin production techniques at th company's Aldridge (West Mic lands) factory. The investmer programme will be complete by the end of 1985.
A further Om has been hue geted for a five year researc and development programme to be undertaken jointly by BRI and GWB (Gelenkwellenbau), it German sister company whicl specialises in shafts for heav commercial vehicles.
Several new products are ex pected to result from this an including a new range of shaft to be introduced later this yea' Computer-aided design i helping GKN to optimise thi steel used in the yokes an fixings of these shafts.
GKN also has another ad vanced design of lightweigh shaft on the drawing board an though details are not yet avail able, it is clear that despit( GKN's recent commitment to thc use of composite material fol leaf springs (p14), those shaft will not be made of composites.
BRD claims to be Britain': largest specialist producer o.
vehicle propeller shafts, supplying vehicle manufacturers witt some 18,000 units a week, 101 which 36 per cent are exported