Daft regs says IRTE
18th February 1984
Page 18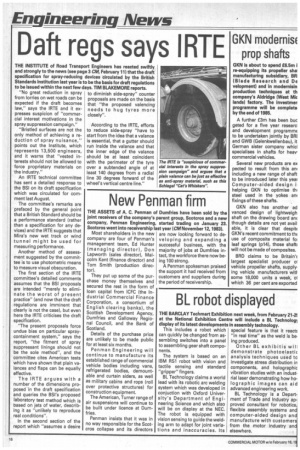 Page 18, 18th February 1984 —
Daft regs says IRTE
Close
THE INSTITUTE of Road Transport Engineers has reacted swiftly, and strongly to the news (see page 3 CM, February 11) that the draft specification for spray-reducing devices circulated by the British Standards Institution last year is to be the basis for draft regulations to be issued within the next few days. TIM BLAKEMORE reports.
"No great reduction in spray from lorries on wet roads can be expected if the draft becomes law," says the IRTE and it expresses suspicion of "commercial interest motivations in the spray suppression campaign."
"Bristled surfaces are not the only method of achieving a reduction of spray nuisance," points out the Institute, which represents 13,500 engineers, and it warns that "vested interests should not be allowed to force proprietary materials on the industry."
An IRTE technical committee has sent a detailed response to the BSI on its draft specification which was circulated for cornment last August.
The committee's remarks are prefaced b
y the general point that a British Standard should be a performance standard (rather than a specification for any devices) and the IRTE suggests that Mira's new wet track or wind tunnel might be used for measuring performance.
Another method of assessment suggested by the committee is to use photometric means to measure visual obscuration.
The first section of the IRTE committee's detailed comments assumes that the BSI proposals are intended "merely to eliminate the worst of present practice" (and now that the draft regulations are imminent that clearly is not the case), but even here the IRTE criticises the draft specification.
"The present proposals force undue bias on particular spraycontainment system," says the report, "the fitment of spray suppressant linings should not be the sole method", and the committee cites American tests which have shown that plain valances and flaps can be equally effective.
The IRTE argues with a number of the dimensions proposed in the draft specification and queries the BSI's proposed laboratory test method which is based on jets of water, describing it as "unlikely to reproduce real conditions".
In the second section of the report which "assumes a desire to diminish side-spray" counter proposals are made on the basis that "the proposed valencing needs to hug tyres more closely".
According to the IRTE, efforts to reduce side-spray "have to start from the idea that a valance is essential, that a gutter should run inside the valance and that the inner edge of the valance should be at least coincident with the perimeter of the tyre over a subtended angle of at least 140 degrees from a radial line 30 degrees forward of the wheel's vertical centre line."