Take-away weight
18th February 1984
Page 17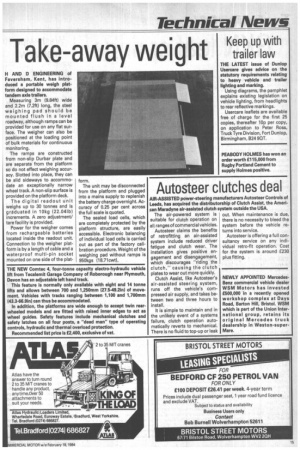 Page 17, 18th February 1984 —
Take-away weight
Close
H AND D ENGINEERING of Faversham, Kent, has introduced a portable weigh platform designed to accommodate tandem axle trailers.
Measuring 3m (9.84ft) wide and 2.2m (7.2ft) long, the steel weighing pad should be mounted flush in a level roadway, although ramps can be provided for use on any flat surface. The weigher can also be positioned at the loading point of bulk materials for continuous monitoring.
The ramps are constructed from non-slip Durbar plate and are separate from the platform so do not effect weighing accuracy. Slotted into place, they can be slid sideways to accommodate an exceptionally narrow wheel track. A non-slip surface is provided on the platform deck.
The digital readout unit weighs up to 30 tonnes and is graduated in 10kg (22.041b) increments. A zero adjustment/ tare facility is provided.
Power for the weigher comes from rechargeable batteries located inside the readout unit. Connection to the weigher platform is by a length of cable and a waterproof multi-pin socket mounted on one side of the plat form.
The unit may be disconnected from the platform and plugged into a mains supply to replenish the battery charge overnight. Accuracy of 0.25 per cent across the full scale is quoted.
The sealed load cells, which are completely protected by the platform structure, are easily accessible. Electronic balancing of individual load cells is carried out as part of the factory calibration procedure. Weight of the weighing pad without ramps is 950kgs (18.71cwt).