Freeport traffic
18th February 1984
Page 15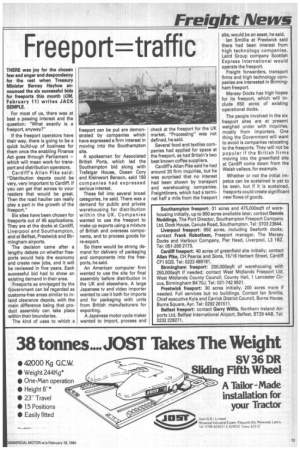 Page 15, 18th February 1984 —
Freeport traffic
Close
Keywords :
Grand Bahama Island
,
Freeport, Illinois
,
Stephenson County, Illinois
,
Freeport, Maine
,
Cardiff
,
Freeport, Pennsylvania
,
Freeport, Bahamas
,
Freeport, Texas
,
Freeport
,
Associated British Ports Holdings
THERE was joy for the chosen few and anger and despondency for the rest when Treasury Minister Barney Hayhoe announced the six successful bids for freeports this month (CM, February 11) writes JACK SEMPLE.
For most of us, there was at best a passing interest and the question: "What exactly is a freeport, anyway?"
If the freeport operators have their way, there is going to be a quick build-up of business for them once the enabling Finance Act goes through Parliament — which will mean work for transport and distribution operators.
Cardiff's Allan Pike said: "Distribution depots could be very, very important to Cardiff. If you can get that across to your readers that would be great. Then the road haulier can really play a part in the growth of the freeport."
Six sites have been chosen for freeports out of 45 applications. They are at the docks at Cardiff, Liverpool and Southampton, and at Belfast, Prestwick and Birmingham airports.
The decision came after a lengthy debate on whether freeports would help the economy and create new jobs, and it will be reviewed in five years. Each successful bid had to show an existing demand in their area.
Freeports as envisaged by the Government can be regarded as customs-free areas similar to inland clearance depots, with the main difference being that product assembly can take place within their boundaries.
The kind of uses to which a freeport can be put are demonstrated by companies which have expressed a firm interest in moving into the Southampton site.
A spokesman for Associated British Ports, which led the Southampton bid along with Trafalgar House, Ocean Cory and Kleinwort Benson, said 150 companies had expressed serious interest.
These fell into several broad categories, he said. There was a demand for public and private warehousing for distribution within the UK. Companies wanted to use the freeport to make up exports using a mixture of British and overseas components, and to process goods for re-export.
So there would be strong demand for delivery of packaging and components into the freeports, he said.
An American computer firm wanted to use the site for final assembly before distribution in the UK and elsewhere. A large Japanese tv and video importer wanted to use it both for imports and for packaging with units from British manufacturers for exporting.
A Japanese motor cycle maker wanted to import, process and check at the freeport for the UK market. "Processing" was not defined, he said.
Several food and textiles companies had applied for space at the freeport, as had Britain's two best known coffee suppliers.
Cardiff's Allan Pike said he had around 20 firm inquiries, but he was surprised that no interest had been shown by transport and warehousing companies. Freightliners, which had a terminal half a mile from the freeport site, would be an asset, he said.
Ian Smillie at Prestwick said there had been interest from high technology companies. Laird Group company Scottish Express International would operate the freeport.
Freight forwarders, transport firms and high technology companies are interested in Birmingham freeport.
Mersey Docks has high hopes for its freeport, which will include 650 acres of existing operational docks.
The people involved in the six freeport sites are at present weighed under with inquiries, mostly from importers. One thing the Government will want to avoid is companies relocating to the freeports. They will not be popular if the British firms moving into the greenfield site at Cardiff come down from the Welsh valleys, for example.
Whether or not the initial impetus can be sustained is yet to be seen, but if it is sustained, freeports could create significant new flows of goods.