Irish go liberal
18th February 1984
Page 14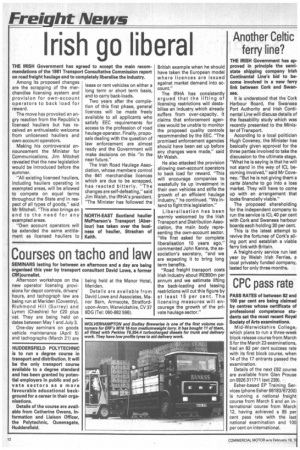 Page 14, 18th February 1984 —
Irish go liberal
Close
THE IRISH Government has agreed to accept the main recommendations of the 1981 Transport Consultative Commission report on road freight haulage and to completely liberalise the industry.
Among its proposed changes are the scrapping of the merchandise licensing system and provision for own-account operators to back load for reward.
The move has provoked an angry reaction from the Republic's licensed hauliers but has received an enthusiastic welcome from unlicensed hauliers and own-account operators.
Making his controversial announcement the Minister for Communications, Jim Mitchell revealed that the new legislation would be introduced before the summer.
"All existing licensed hauliers, including hauliers operating in exempted areas, will be allowed to compete on equal terms throughout the State and in respect of all types of goods," said Mr Mitchell. "This also brings an end to the need for any exempted areas.
"Own account operators will be extended the same entitlement as licensed hauliers to lease or rent vehicles on either a long term or short term basis, and to carry back-loads.
Two years after the completion of this first phase, general licences will be made freely available to all applicants who satisfy EEC requirements for access to the profession of road haulage operator. Finally, proposals dealing with the question of law enforcement are almost ready and the Government will make decisions on this "in the near future."
The Irish Road Haulage Association, whose members control the • 841 merchandise licences which are due to be scrapped, has reacted bitterly. "The changes are self-defeating," said Jim Walsh, the IRHA's president. "The Minister has followed the