Courses on tacho and law
18th February 1984
Page 14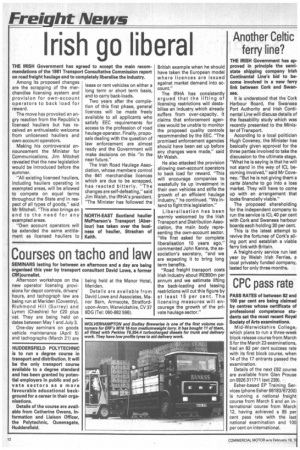 Page 14, 18th February 1984 —
Courses on tacho and law
Close
SEMINARS lasting for between an afternoon and a day are being organised this year by transport consultant David Lowe, a former CMIournalist.
Afternoon workshops on the new operator licensing provisions for depot controls, drivers' hours, and tachograph law are being run at Meriden (Coventry), Richmond Hill (Surrey) and Lymm (Cheshire) for £20 plus vat. They are being held on dates between May 1 and July 3.
One-day seminars on goods vehicle maintenance (April 5) and tachographs (March 21) are being held at the Manor Hotel, Meriden.
Details are available from David Lowe and Associates, Manor Barn, Armscote, Stratfordupon-Avon, Warwickshire, CV 37 8DG (Tel: 060-882 596). British example when he should have taken the European model where licences are issued against market demand into account."
The IRHA has consistently argued that the lifting of licensing restrictions will destabilise an industry which already suffers from over-capacity. It claims that enforcement agencies would be unable to monitor the proposed quality controls recommended by the EEC. "The promised enforcement agencies should have been set up before any changes were made," said Mr Walsh.
He also attacked the provision allowing own-account operators to back load for reward. "This will encourage companies to wastefully tie up investment in their own vehicles and stifle the growth of an efficient haulage industry," he continued. "We intend to fight this legislation."
Liberalisation has been warmly welcomed by the Irish Transport and Distribution Association, the main body representing the own-account sector. "We first asked for complete liberalisation 10 years ago," commented John Kenna, the association's secretary, "and we are expecting it to bring long term benefits.
"Road freight transport costs Irish Industry about 1R£800m per annum and we estimate lifting the back-loading and leasing restrictions will cut this figure by at least 15 per cent. The licensing measures will encourage the growth of the private haulage sector."