Another Celtic ferry line?
18th February 1984
Page 14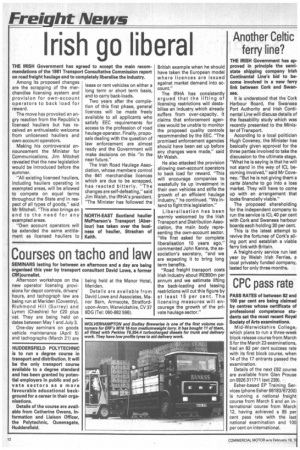 Page 14, 18th February 1984 —
Another Celtic ferry line?
Close
THE IRISH Government has approved in principle the semistate shipping company Irish Continental Line's bid to become involved in a new ferry link between Cork and Swansea.
It is understood that the Cork Harbour Board, the Swansea Port Authority and Irish Continental Line will discuss details of the feasability study which was recently presented to the Minister of Transport.
According to a local politician Hugh Coveney, the Minister has basically given approval for the three parties involved to take the discussion to the ultimate stage. "What he is saying is that he will not stand in the way of ICL becoming involved," said Mr Coveney. "But he is not giving them a carte blanche to go into a loss market. They will have to come up with an arrangement that looks financially viable,"
The proposed shareholding for the independent company to run the service is ICL 40 per cent with Cork and Swansea harbour boards each holding 30 per cent.
This is the latest attempt to revive the fortunes of Cork's ailing port and establish a viable ferry link with Britain.
A freight-only service run last year by Walsh Irish Ferries, a local privately funded company, lasted for only three months.