RHA's Dutch wait
18th February 1984
Page 13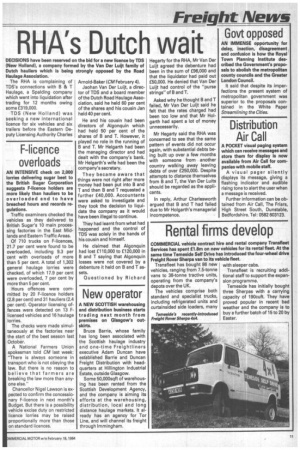 Page 13, 18th February 1984 —
RHA's Dutch wait
Close
DECISIONS have been reserved on the bid for a new licence by TDS (New Holland), a company formed by the Van Der Luijt family of Dutch hauliers which is being strongly opposed by the Road Haulage Association.
The RHA is complaining of TDS's connections with B & T Haulage, a Spalding company which went into liquidation after trading for 12 months owing some £319,000.
TDS (New Holland) was seeking a new international licence for six vehicles and six trailers before the Eastern Deputy Licensing Authority Charles Arnold-Baker (CM February 4).
Jaohan Van Der Luijt, a director of TDS and a board member of the Dutch Road Haulage Association, said he held 60 per cent of the shares and his cousin Jan held 40 per cent.
He and his cousin had been directors of Algonquin which had held 50 per cent of the shares of B and T. However, it played no role in the running of B and T. Mr Helgarth had been the managing director and had dealt with the company's bank. Mr Helgarth's wife had been the company's secretary.
They became aware that things were not right after more money had been put into B and T and then B and T requested a further £40,000. Accountants were asked to investigate and they took the decision to liquidate the company as it would have been illegal to continue.
They had learnt from what had happened and the control of TDS was solely in the hands of his cousin and himself.
He claimed that Algonquin had lost £110,000 to £120,000 in B and T saying that Algonquin losses were not covered by a debenture it held on B and T assets.
Questioned by Richard
Hegarty for the RHA, Mr Van Der Luijt agreed the debenture had been in the sum of £96,000 and that the liquidator had paid out £50,000. He denied that Van Der Luijt had control of the "purse strings" of B and T.
Asked why he thought B and T failed, Mr Van Der Luijt said he felt that the rates charged had been too low and that Mr Holgarth had spent a lot of money unnecessarily.
Mr Hegarty said the RHA was concerned to see that the same pattern of events did not occur again, with substantial debts being built up over a few months with someone from another country walking away leaving debts of over £250,000. Despite attempts to distance themselves from B and T, the Van Der Luits should be regarded as the applicants.
In reply, Arthur Charlesworth argued that B and T had failed due to Mr Holgarth's managerial incompetence.