Italian strike strands 1,000 lorries
18th February 1984
Page 12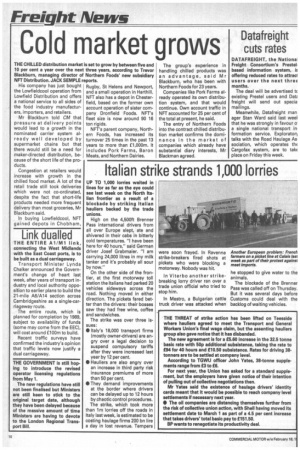 Page 12, 18th February 1984 —
Italian strike strands 1,000 lorries
Close
UP TO 1,000 lorries waited in lines for as far as the eye could see last week on the North Italian frontier as a result of a blockade by striking Italian hauliers backed by the trade unions.
High on the 4,500ft Brenner Pass international drivers from all over Europe slept, ate and shivered in their cabs in bitterly cold temperatures. "I have been here for 40 hours," said German driver Josef Grabmaier. "I am carrying 24,000 litres in my milk tanker and it's probably all sour by now," On the other side of the frontier, at the first motorway toll station the Italians had parked 20 vehicles sideways across the road. Nothing moved in either direction. The pickets fared better than the drivers: their bosses saw they had free wine, coffee and sandwiches.
The strike was over three issues: • Italy's 18,000 transport firms (mostly owner-drivers) are angry over a legal decision to suspend compulsory tariffs after they were increased last year by 12 per cent.
• Hauliers are also angry over an increase in third party risk insurance premiums of more than 50 per cent.
• They demand improvements at the border where drivers can be delayed up to 12 hours by chaotic control procedures.
The strike, which took more than 1m lorries off the roads in Italy last week, is estimated to be costing haulage firms 200 bn lire a day in lost revenue. Tempers In Viterbo another strikebreaking lorry driver ran over a trade union official who tried to stop him.
In Mestro, a Bulgarian cattle truck driver was attacked when he stopped to give water to the animals.
The blockade of the Brenner Pass was called off on Thursday. But it was several days before Customs could deal with the backlog of waiting vehicles.