Cold market grows
18th February 1984
Page 12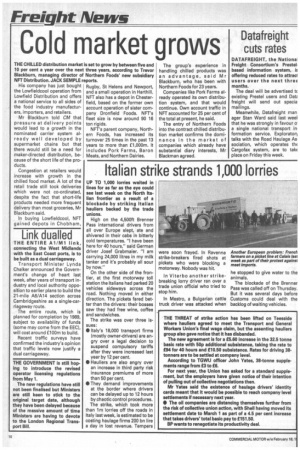 Page 12, 18th February 1984 —
Cold market grows
Close
THE CHILLED distribution market is set to grow by between five and 10 per cent a year over the next three years, according to Trevor Blackburn, managing director of Northern Foods' new subsidiary NFT Distribution. JACK SEMPLE reports.
His company has just bought the Lowfieldcool operation from Lowfield Distribution and offers a national service to all sides of the food industry manufacturers, importers, and retailers.
Mr Blackburn told CM that pressure at delivery points would lead to a growth in the nominated carrier system already well developed by supermarket chains but that there would still be a need for maker-directed distribution, because of the short life of the products.
Congestion at retailers would increase with growth in the chilled food market. A lot of the retail trade still took deliveries which were not co-ordinated, despite the fact that short-life products needed more frequent delivery than most groceries, Mr Blackburn said.
In buying Lowfieldcool, NFT gained depots in Chobham,
Link dualled
THE ENTIRE A1/M1 link, connecting the West Midlands with the East Coast ports, is to be built as a dual carriageway.
Transport Minister Lynda Chalker announced the Government's change of heart last week, after years of transport industry and local authority opposition to earlier plans to build the 21-mile A6/A14 section across Cambridgeshire as a single-carriageway route.
The entire route, which is planned for completion by 1989, subject to availability of funds (some may come from the EEC), will cost around £100m to build.
Recent traffic surveys have confirmed the industry's opinion that traffic levels now justify a dual carriageway. Rugby, St Helens and Newport, and a small operation in Harthill. NET also has a depot in Chesterfield, based on the former own account operation of sister company Dronfield Foods. NFT's fleet size is now around 90 16 ton rig ids.
NFT's parent company, Northern Foods, has increased its turnover 25 times in the past 13 years to more than E1,000m. It includes Pork Farms, Baron Meats, and Northern Dairies. The group's experience in handling chilled products was an advantage, said Mr Blackburn, who has been with Northern Foods for 23 years.
Companies like Pork Farms already operated its own distribution system, and that would continue. Own account traffic in NFT accounted for 25 per cent of the total at present, he said.
The entry of Northern Foods into the contract chilled distribution market confirms the dominance in the market of companies which already have substantial diary interests, Mr Blackman agreed.