MINISTER PREFERS TROLLEY BUSES
18th February 1938
Page 50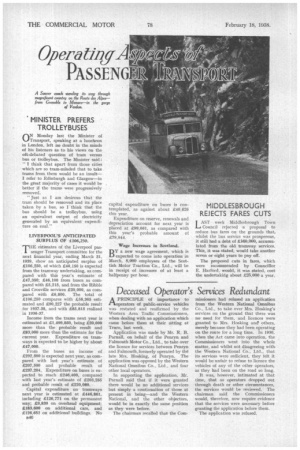 Page 50, 18th February 1938 —
MINISTER PREFERS TROLLEY BUSES
Close
Monday last the Minister of '..-"Transport, speaking at a luncheon in London, left no doubt in the minds of his listeners as to his views on the oft-debated question of tram versus bus or trolley bus. The Minister said: " I think that apart from those cities which are so tram-minded that to take trams from them would be an insult— I refer to Edinburgh and Glasgow—in the great majority of cases it would be better if the trams were progressively removed.
Just as I am desirous that the tram should be removed and its place taken by a bus, so I think that the bus should be a trolleybus, using an equivalent output of electricity generated by an equivalent expenditure on coal."
LIVERPOOL'S ANTICIPATED SURPLUS OF £106,250.
THE eitimates of the Liverpool passenger Transport committee for the next financial year, ending March 31, 1939, show an anticipated surplus of £106,250, of which £40,150 is expected from the tramway undertaking, as compared with this year's estimate of £47,350; £46,100 from buses as compared with £5,215, and from the Ribble and Crosville services £20,000, as compared with £6,800. The total of £100,250 compares with £58,365 estimated and £90,227 the probable result for 1937-38, and with £85,815 realimd in 1936-37.
Income from the trams next year is estimated at £1,499,850, being £20,000 more than the probable result and £83,000 more than the estimate for the current year. Expenditure on tramways is expected to be higher by about £47,000.
From the buses an income of £292,500 is expected next year, as compared with last year's estimate of £207,500 and probable result of £237,204. Expenditure on buses is expected to reach £246,400, compared with last year's estimate of £203,285 and probable result of £220,080.
Capital expenditure on tramways next year is estimated at £446,861, including £126,771 on the permanent way; £9,839 on overhead equipment; £183,600 on additional cars, and £126,651 on additional buildings. No
B40 capital expenditure on buses is contemplated, as against about £40,626 this year.
Expenditure on reserve, renewals and depreciation account for next year is placed at £99,661, as compared with this year's probable amount of £79,944.
Wage Increases in Scotland.
By a new wage agreement, which is expected to come into operation in March, 8,000 employees of the Scottish Motor Traction Co., Ltd., will be in receipt of increases of at least a halfpenny per hour.
MIDDLESBROUGH REJECTS FARES CUTS
LAST week Middlesbrough Town La Council rejected. a proposal to reduce bus fares on the grounds that, whilst the bus service was prosperous, it still had a debt of £160,000. accumulated from the old tramway services. This, it was stated, would take another seven or eight years to pay oil.
The proposed cuts in fares, which were recommended by Councillor E. Harford,would, it was stated, cost the undertakidg about £25,000 a year,