Germany's New Cross-country Vehicles
18th February 1938
Page 49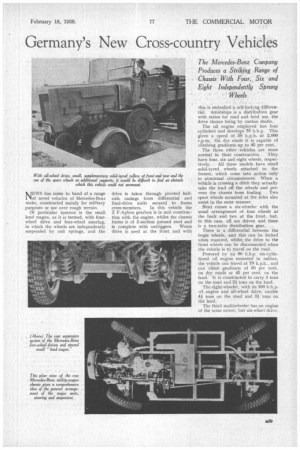 Page 49, 18th February 1938 —
Germany's New Cross-country Vehicles
Close
NMEWS has come to hand of a range of novel vehicles of Mercedes-Benz make, constructed mainly for military purposes or use over rough terrain.
Of particular interest is the small land wagon, as it is termed, with fourwheel drive and four-wheel steering, in which the wheels are independently suspended by coil springs, and the drive is taken through pivoted halfaxle casings from differential and final-drive units secured to frame cross-members. In this vehicle the Z F-Aphon gearbox is in unit construction with the engine, whilst the chassis frame is of Z-section pressed steel and is complete with outriggers. Worm drive is used at the front and with this is embodied a self-locking differential. Amidships is a distribution gear with ratios for road and land use, the drive thence being by cardan shafts.
The oil engine employed has four cylinders and develops 70 b.h.p. This gives a speed of 50 k.p.h. at 2,000 r.p.m. On dry roads it is capable of climbing gradients up to 45 per cent.
The three other vehicles are more normal in their construction. They have four, six and eight wheels, respec tively. All three models have small solid-tyred wheels attached to the frames, which come into action only in abnormal circumstances. When a vehicle is crossing a ditch they actually take the load off the wheels and prevent the chassis from fouling. . Two spare wheels mounted at the sides also assist in the same manner.
Next comes a six-wheeler with the usual arrangement of four wheels at the back and two at the front, but, in this case, all are driven and there is a two-ratio distribution gear.
There is a differential between the bogie wheels, and this can be locked when required, whilst the drive to the front wheels can be disconnected when the vehicle is to travel on the road.
Powered by an 80 b.h.p. six-cylindered oil engine mounted in rubber, the vehicle can travel at 70 k.p.h., and can climb gradients of 50 per cent. on dry roads or 45 per cent. on the land. It is constructed to carry 3 tons on the road and 2f tons on the land.
The eight-wheeler, with its 100 b.h.p. oil engine and all-wheel drive, carries 44 tons on the road and 3i tons on the land.
The third multiwbeeler has an engine of the same power, but six-wheel drive.