U.S.A. Maker Introduces
18th February 1938
Page 41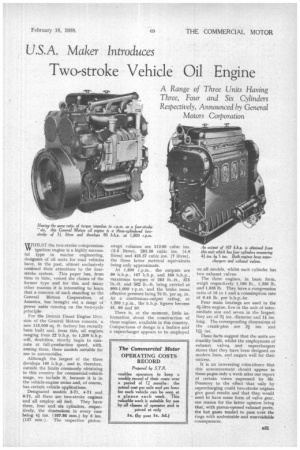 Page 41, 18th February 1938 —
U.S.A. Maker Introduces
Close
Two-stroke Vehicle Oil Engine
WHILST the two-stroke compression. WV ignition engine is a highly successful type in marine engineering, designers of oil units for road vehicles have, in the past, almost exclusively confined their attentions to the fourstroke system, This paper has, from time to time, voiced the claims of the former type and for this and many other reasons it is interesting to learn that a concern of such standing as the General Motors Corporation, of America, has brought out a range of ' power units running on the two-cycle principle For the Detroit Diesel Engine Division of the General Motors concern: a new 115,000 sq. ft. factory has recently been built and, from this, oil engines ranging from 22 b.h.p. to 1,200 b.h.p. will, doubtless, shortly begin to emanate at full-production speed, with, among them, three models suitable for use in automobiles.
Although the largest of the three develops 160 b.h.p., and is, therefore, outside the limits commonly obtaining in this country for commercial-vehicle usage, we include it, because it is in the vehicle-engine series and, of course, has certain vehicle applications.
Designated models 3-71, 4-71 and 6-71, all three are two-stroke engines and all employ oil fuel. They have three, four and six cylinders, respectively, the dimensions in every case being 41 ins. (107.95 mm.) by 5 ins. (127 mm.). The respective piston
swept volumes are 212.69 cubic ins. (3.5 litres), 289.58 cubic ins. (4.6 litres) and 425.37 cubic ins. (7 litres), the three latter metrical equivalents being only approximate.
At 1,800 r.p.m., the outputs are 80 b.h.p., 107 b.h.p. and 160 b.h.p., maximum torques of 283 lb.-ft., 375 lb.-ft. and 562 lb.-ft. being exerted at 800-1,000 r.p.m. and the brake mean effective pressure being 70 lb. per sq. in. At a continuous-output rating, at 1,200 r.p.m., the b.h.p. figures become 45, 60 and 90.
There is, at the moment, little information about the construction of these engines, available in this country. Compactness of design is a feature and a supercharger appears to be employed on all models, whilst each cylinder has two exhaust valves.
The three engines, in basic form, weigh respectively 1,160 lb., 1,330 lb. and 1,635 lb. They have a compression ratio of 16 to I and a consumption rate of 0.45 lb. per b.h.p.-hr.
Four main bearings are used in the 31-litre engine, five in the unit of inter" mediate size and seven in the largest; they are of 3i ins, diameter and 11 ins. long. The corresponding dimensions of the crank-pins are 21 ins. and l ins.
These facts suggest that the units are sturdily built, whilst the employment of exhaust valves and superchargers shows that they have been designed on modern lines, and augurs well for their success.
it is an interesting coincidence that this announcement should appear in these pages only a week after our report of certain views expressed by Mr. Pomeroy to the effect that only by supercharging could two-stroke engines give good results and that they would need to have some form of valve gear, one reason for the latter opinion being that, with piston-opened exhaust ports, the hot gases tended to pass over the rings with undesirable and unavoidable consequences.