How C. and U. Regulations Affect Hauliers.
18th February 1938
Page 37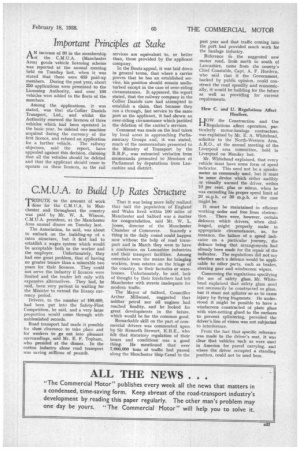 Page 37, 18th February 1938 —
How C. and U. Regulations Affect Hauliers.
Close
HOW the Construction and Use 'Regulations affect operators, particularly motor-haulage contractors, was explained by Mr. E. A. Whitehead, solicitor to the North-Western Area, A.R.O., at the annual meeting of the Liverpool area committee, held in Liverpool on Monday last.
Mr. Whitehead explained, that every vehicle must have some form of speed indicator, This need not be a speedometer as commonly used, but it must be some device which either audibly OT visually warned the driver, within 10 per cent. plus or minus, when he was exceeding his proper speed limit of 20 m.p.h. or 30 m.p.h. as the case might be.
It must he maintained in efficient working order and free from obstruc tion. There were, however, certain defences which drivers, when challenged, might properly make in appropriate circumstances, as, for instance, the failure of a speed indicator on a particular journey, the defence being that arrangeraents had already been made for the repair of the indicator. The regulations did not say whether such a defence would be applicable to other parts, such as brakes, steering gear and windscreen wipers.
Concerning the regulations specifying the use of safety glass, Mr. Whitehead explained that safety glass need not necessarily be constructed as glass, but it must not splinter so as to cause injury by flying fragments. He understood it might be possible to have a windscreen constructed of plate glass with wire-netting glued to the surfaces to prevent splintering, provided the driver's line of vision was not subjected to interference.
From the fact that specific reference was made to the driver's seat, it was clear that vehicles such as were used in America for parcel carrying, and where the driver occupied a standing position, could not be used here.