Longer Terms for A, B and C Licences A NNOUNCEMENTS that
18th February 1938
Page 36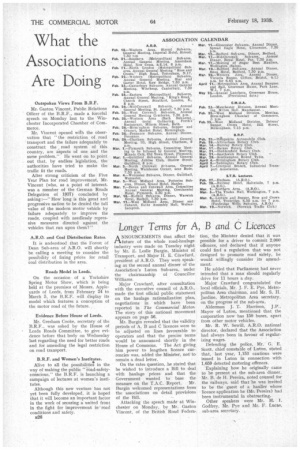 Page 36, 18th February 1938 —
Longer Terms for A, B and C Licences A NNOUNCEMENTS that
Close
affect the future of the whole road-haulage industry were made on Tuesday night by Mr. E. Leslie Burgin, Minister of Transport, and Major H. E. Crawfurd, president of A.R.O. They were speaking at the second annual dinner of the Association's Luton Sub-area, under the chairmanship of Councillor Williams.
Major Crawfurd, after consultation with the executive council of A.R.O., made the first official public statement on the haulage rationalization plan, negotiations in which have been reported in The Commercial Motor. The story of this national movement appears on page 56.
Mr. Burgin revealed that the validity periods of A, B and C licences were to be adjusted on lines favourable to operators and that the precise terms would be announced shortly in the House of Commons. The Act giving him power to lengthen licence currencies was, added the Minister, not to remain a dead letter.
On the rates question, he stated that he wished to introduce a Bill to deal with haulage prices and that the Government wanted to base the measure on the T.A.C. Report. Mr. Burgin welcomed representations from the associations on detail provisions of the Bill.
Attacking the speech made at Winchester on Monday, by Mr. Gaston Vincent, of the British Road Federa-. tion, the Minister denied that it was possible for a driver to commit 2,000 offences, and declared that if anyone could find a regulation that was not designed to promote road safety, he would willingly consider its amendment.
He added that Parliament had never intended that a man should regularly drive for 11 hours a day.
Major Crawfurd congratulated the local officials, Mr. J. F. E. Pye, Metropolitan Area chairman, and Mr. S. H.
Jardine, Metropolitan Area secretary, on the progress of the sub-area.
Alderman J. T. Harrison, J,PI, Mayor of Luton, mentioned that the corporation now has 150 buses, apart from other motor vehicles.
Mr. R. W. Swill, A.R.O. national director, declared that the Association had always been in favour of regularizing wages.
Defending the police, Mr. G. E. Scott, chief constable of Luton, stated that, last year, 1,153 cautions were issued in Luton in connection with 1,659 detected motoring offences.
Explaining how he originally came to be present at the sub-area dinner. Mr. B. de H. Pereira, noted counsel for the railways, said that he was invited to be the guest of a haulier whose licence application he (Mr. Pereira) had been instrumental in obstructing.
Other speakers were Mr. H. 1. Godfrey, Mr. Pye and Mr. F. Lucas, sub-area secretary.
Tags
People
:
R. W. Swill
,
E. Leslie Burgin
,
H. Pereira
,
G. E. Scott
,
B. de H
,
S. H. Jardine
,
F. E. Pye
,
Crawfurd
,
Gaston Vincent
,
Williams
,
F. Lucas