The Fallacy of Hit-or-Miss Costing Methods
18th February 1938
Page 34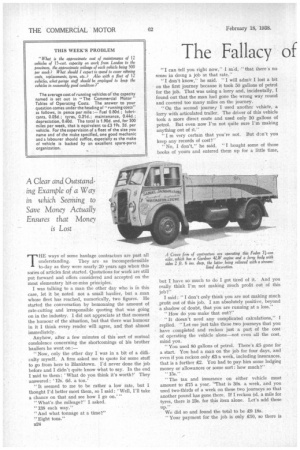 Page 35
Page 34, 18th February 1938 —
The Fallacy of Hit-or-Miss Costing Methods
Close
Keywords :
THE ways of some haulage contractors are past all understanding. They are as incomprehensible to-day as they were nearly 20 years ago when this series of articles first started. Quotations for work are still put forward and offers considered and accepted on the most elementary hit-or-miss principles.
I was talking to a man the other day who is in this case, let it be noted not a small haulier, but a man whose fleet has reached, numerically, two figures. He started the conversation by bemoaning the amount of rate-cutting and irresponsible quoting that was going on in the industry. I did not appreciate at that moment the humour of the situation, but that there was humour in it I think every reader will agree, and that almost immediately.
Anyhow, after a few minutes of this sort of mutual condolence concerning the shortcomings of his brother hauliers he went on :— "Now, only the other day I was in a bit of a difficulty myself. A firm asked me to quote for some stuff to go from here to Blanktown. I'd never done the job before and I didn't quite know what to say. In the end I said to them : 'What do you think it's worth?' They answered : '12s. 6d. a ton.'
"It seemed to me to be rather a low rate, but I thought I'd better meet them, so I said: 'Well, I'll take a chance on that and see how I go on.'"
"What's the mileage?" I asked.
"138 each way."
"And what tonnage at a time?"
"Eight tons."
B24
"I can tell you right now," I sad, "that there's no sense in doing a job at that rate."
"I don't know," he said. "I will admit I lost a bit on the first journey because it took 50 gallons of petrol for the job. That was using a lorry and, incidentally, I found out that the man had gone the wrong way round and covered too many miles on the journey.
"On the second journey I used another vehicle, a lorry with articulated trailer. The driver of this vehicle took a more direct route and used only 30 gallons of petrol. But even now I'm not quite sure I'm making anything out of it."
" I m very certain that you're not. But clr.-,n't you keep any records of cost?"
"No, I don't," he said. "I bought some of those books of yours and entered them up for a little time, but I have so much to do I got tired of it. And you really think I'm not making much profit out of this job?"
I said : "I don't only think yOU are not making much profit out of this job. I am absolutely positive, beyond a shadow of doubt, that you are running at a loss."
"How do you make that out?"
"It doesn't need any complicated calculations," I replied. "Let me just take these two journeys that you have completed and reckon just a part of the cost of operating the vehicle alone—not even all the cast, mind you.
"You used 80 gallons of petrol. There's £5 gone for a start. You had a man on the job for four days, and even if you reckon only £3 a week, including insurances. that is a further £2. You had to par him some lodging money or allowances or some sort : how much?"
"The tax and insurance on either vehicle must amount to £75 a year. 'That is 30s. a week, and you used two-thirds of a week on these two journeys so that another pound has gone there. If I reckon id. a mile for tyres, there is 23s. for this item alone. Let's add these up." • We did so and found the total to be £9 18s.
"Your payment for the job is only £10, so there is only 2s. left and there is no provision for maintenance, for depreciation, for garage rent, interest on first cost, and business expenses. As for profit . . . ! Do you wonder that I am able to say outright that you've done this job at a loss, that you are actually paying your customer money, helping him to deliver his goods just for the fun of the thing?"
" If you put it like that I must say it does look rather bad. But what could I do? I had no idea and I took it that the customer must himself know what the rate ought to be."
I took another line.
" But, my dear chap, you must know, surely, that taking a regular route from London to Birmingham, which is only 112 miles, a very moderate and really non-profitable rate is 18s. to El per ton?"
"Now there you are wrong," he said, with evident delight at having tripped me up. "I took a load from London to Birmingham only the other day. One of my fellows was in London and had to get back to Birmingham, or near Birmingham, and he went to a clearing house there—I told him to pick up a load if he could get hold of one somehow—and he got one: 10s. 6d. a ton less 10 per cent."
This time I did "blow up," but it was no use.
"What can you do," he exclaimed, "if you've got a vehicle there and it's coming back? You might just as well take a load at 10s. and make something out of it as come back empty and get nothing."
I wonder if any of those who read this have seen the point of the joke. , It is what I might call a bittersweet tale anyhow and, unfortunately, one that can only too frequently be told of the haulage industry. That a man should bemoan the prevalence of rate-cutting and then proceed to relate experiences of the kind just described, seems almost past belief.
The moral of the story really lies here. This operator keeps no records of costs. This, he says, is because of the expense involved in having to engage a clerk to do the work. An accountant at £10 a week would be an economy and a saving to that man_ He must be losing very much more than LW a week throughout his fleet at the present time. His story is realty an exemplification of what is commonly called a vicious circle.
He thinks to economize by saving the wages of a costs clerk and in so doing he renders himself, month by month, less likely to be able even to afford such an essential, and so he goes on, blindly accepting rates which the customer thinks desirable, not knowing in the least whether such rates are fair, reasonable or economical, when the simplest calculation, such as I was able to do in less than a minute, would demonstrate, first, the futility of his methods, and, secondly, the wisdom of keeping track of his costs.
Here is a man who, endeavouring to make good the boast which so many hangers make—that his establishment costs are negligible—loses daily more than he would need to spend on establishment costs each week if he were to apply the most elementary business principles to the .conduct of his business.
This penny wise, pound foolish policy, this absence of any regard for business principles, is at the root of most of the rate-cutting that does proceed to-day. It is this attitude towards business that is the despair of all those who have the best interests of the industry at heart. S.T.R.