Those Rationalization Rumours S PEAKING at the second annual dinner of
18th February 1938
Page 28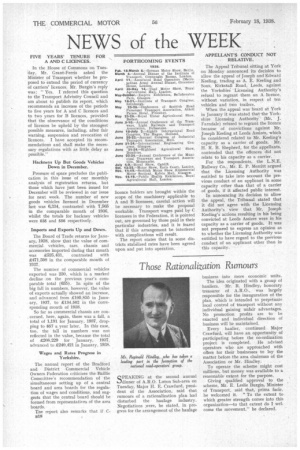 Page 28, 18th February 1938 —
Those Rationalization Rumours S PEAKING at the second annual dinner of
Close
Keywords :
A.R.O. Luton Sub-area on Tuesday, Major H. E. Crawfurd, president of the Association, said that rumours of a rationalization plan had disturbed the haulage industry. Negotiations were, he stated, in progress for the arrangement of the haulage
business into more economic units.
The idea originated with a group of hauliers. Mr. R. Hindley, honorary treasurer of A.R.O., was largely responsible for the inauguration of the plan, which is intended to perpetuate local control of transport without any individual gaining unfair advantages. No promotion profits are to be exacted and individual direction of business will be maintained.
Every haulier, continued Major Crawford, will have an opportunity of participating before the co-ordination project is completed. He advised operators who are approached with offers for their businesses to lay the matter before the area chairman of the Association or Mr. Hindley.
To operate the scheme might cost millions, but money was available to a reasonable extent for the purpose.
Giving qualified approval to the scheme, Mr. E. Leslie Burgin, Minister of Transport, said that, prima facie, he welcomed it. "To the extent to which greater strength comes into this organization—to that extent do I welcome the movement," he declared.