Wheels and Tires; Stores; Tools ; Sundries.
18th February 1909
Page 5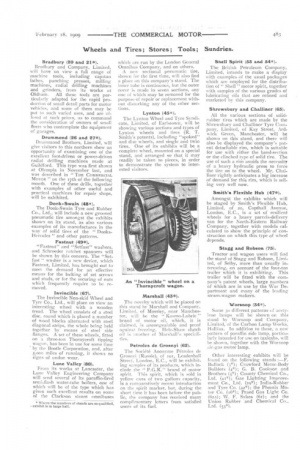 Page 5, 18th February 1909 —
Wheels and Tires; Stores; Tools ; Sundries.
Close
Bradbury (20 and 2I*). Bradbury and Company, Limited, will have on view a full range of
• machine tools, including capstan lathes, punching presses, milling machines, radial drilling machines and grinders, from its works at Oldham. All these tools are particularly adapted for the rapid production of small detail parts for motor vehicles, and some of them may be put to such varied uses, and are offered at such prices, :is to command the consideration of owners of small fleets who contemplate the equipment of garages.
Drummond (26 and 27*). Drummond Brothers, Limited, will give visitors to this northern show an opportunity of examining one of the excellent font-driven or power-driven radial drilling machines made at Guildford. This type was first shown at Olympia in November Last, and was described in "THE Comnanacim. MOTOR " on the 17th of the following month. One of these drills, together with examples of other useful and practical machines for repair shops, will he exhibited.
Dook-Swain (48*).
The Dook-Swain Tyre and Rubber Co., Ltd., will include a new grooved pneumatic tire amongst the exhibits shown on its stand, as also various examples of its manufactures in the way of solid tires of the " nooksHercules " and other patterns.
Fastnut (49*).
"Fastnut" and "Setfast" washers, and Schroeder ratchet spanners will be shown by this concern. The "Setfast " washer is a new device, which • Fastnut, Limited, has brought out to meet the demand for an effective means for the locking of set screws and studs, or for the securing of nuts which frequently require to be removed.
Invincible (67).
The Invincible Non-skid Wheel and Tyre Co., Ltd., will place on view an interesting wheel with a wooden tread. The wheel consists of a steel disc, round which is placed a number of wood blocks alternated with steel diagonal strips, the whole being held together by means of steel side flanges. A set of these wheels, fitted on a three-ton Thornycroft tipping wagon, has been in use for some time • by the Bootle Corporation, and, after 5,000 miles of running, it shows no signs of undue wear.
Lune Valley (80).
From its works at Lancaster, the Lune Valley Engineering Company will send several of its paraffin-fired semi-flash water-tube boilers, one of which will be of the type which has given such excellent results on some of the Clarkson steam omnibuses
which are run by the London General Omnibus Company, and on others. A new sectional pneumatic tire, shown for the first time, will also find a place on this company's stand. The inner tube is continuous, but the outer cover is made in seven sections, any one of which may be removed for the purpose of repair or replacement without disturbing any of the other sections.
Lynton (45*).
The Lynton Wheel and Tyre Syndicate, Limited, of Earlstown, will be showing various sections and types of Lynton wheels and tires (R. T. Smith's patents), including "spoked" and disc wheels, and single and twin tires. One of its exhibits will be a complete wheel, mounted on a special stand, and arranged so that it may readily be taken to pieces, in order to demonstrate the system to interested visitors.
Marshall (43*).
The novelty which will be placed on this stand by Marshall and Company, Limited, of Mossley, near Manchester, will be the '' Kosmo-Lubric " brand of motor oil, which, it is claimed, is uncong-ealable and prcof against freezing. HeIe-Shaw clutch oil is another of Marshall's specialities.
Petroles de Grosnyi (62).
The Societe Anonyrne Petroles de Grosnyi (Russie), of to', Leadenhall Street, London, E.C., will be exhibiting samples of its products, which include the " P.G.R." brand of motor spirit. This spirit, which is sold in yellow cans of two gallons capacity, is a comparatively recent introduction on the spirit market, hut, during the short time it has been before the public, the company has received many complimentary letters from satisfied users of its fuel. Snell Spirit (53 and 54*).
The British Petroleum Company, Limited, intends to make a display with examples of the usual packages which are employed for the distribution of " Shell " motor spirit, together with samples of the various grades of lubricating oils that are refined and marketed by this company.
Shrewsbury and Challiner (63).
All the various sections of solidrubber tires which are made by the Shrewsbury and Challiner Tyre Coinpany, Limited, of Kay Street, Ardwick Green, Manchester, will be shown on this stand, and there will also be displayed the company's patent detachable rim, which is suitable for use with either the band-section or the clinched t■,,pe of solid tire. The use of such a rim avoids the necessity of a heavy hydraulic press to force the tire on to the wheel. Mr. Challiner rightly anticipates a big increase of demand for this rim, which is selling very well now.
Smith's Flexible Hub (47*).
Amongst the exhibits which will be staged by Smith's Flexible hub, Limited, of 2o, Copthall Avenue, London, E.C., is a set of resilient wheels for a heavy parcels-delivery van for the North-Eastern Railway Company, together with models calculated to show the principle of construction on which this type of wheel depends.
Stagg and Robson (75).
Tractor and wagon users will find the stand of Stagg and Robson, Limited, of Selby, more than usually interesting, on account of the four-ton trailer which it is exhibiting. This trailer will be fitted with the company's patent wheels, large numbers of which are in use by the War Department and many of the leading steam-wagon makers.
Worsnop (34*).
Some 3o different patterns cf acetylene lamps will be shown on this stand by Worsnop and Company, Limited, of the Carlton Lamp Works, Halifax. In addition to these, a new pattern of paraffin side lamp, particularly intended for use on taxicabs, will be shown, together with the Worsnop air-gas motor lamp.
Other interesting exhibits will be found on the following stands :—F. Bullock (3*); Crawford Motor-Body Builders (0); G. B. Cookson and Brothers (54') t County Chemical Co., Ltd. (40); Gas Lighting Improvement Co.. Ltd. (29*); India-Rubber and Tyre Co. (4219; the Phcenix Motor Co. (164); Praed Gas Light Co. (62a); W. F. Sykes (60; and the. Union Rubber and Chemical Co., Ltd. (z.-*).