Commercial Motors in Italy.
18th February 1909
Page 2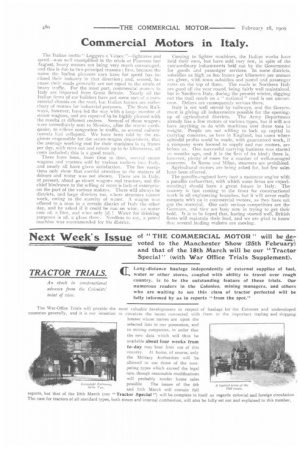 Page 2, 18th February 1909 —
Commercial Motors in Italy.
Close
The Italian motto " Legg-ero e Veloce "—lightness and speed—was well exemplified in the trials at Piacenza last August, heavy motors not being very much encouraged, and this is due to two principal reasons : first, because the name the Italian pleasure cars have for speed has inclined their industry in that direction ; and, second, because their roads generally are not equal to the strain of heavy traffic. For the most part, commercial motors in Italy are imported from Great Britain. Nearly all the Italian firms of car builders have put some sort of a commercial chassis on the road, but Italian buyers are rather chary of motors for industrial purposes. The State Railways, however, have led the way with a large number of steam wagons, and are reported to be highly pleased with the results at differeat centres. Several of these wagons were immediately sent to Messina, after the recent earthquake, to relieve congestion in traffic, as several railway tunnels had collapsed. We have been told by the engineer responsible for the steam-wagon department, that the average working cost for their machines is 24 francs per day, with runs out and return up to (in kilometres, all costs included ; this is a good result.
There have been, from time to time, several steam wagons and tractors sold by various makers into Italy, and nearly all have given satisfaction. The few excepfions only show that careful attention to the matters of drivers and water was not shown. There are in Italy, at present, about ,to steam wagons and tractors, and the chief hindrance to the selling of more is lack of enterprise on the part of the various makers. There will always be districts, and large districts too, whcre steamers cannot work, owing to the scarcity of water. A wagon was offered to a man in a certain district of Italy the other day, and he asked if it could be run on wine, as water cost id. a litre, and wine only J,d.! Water for drinking purposes is id. a glass there. Needless to say, a petrol machine was recommended for his district.
Coming to lighter machines, the Italian works have held their own, but have sold very few, in spite of the extraordinary inducements held out by the Government for goads and passenger services. In some districts, subsidies as high as 800 francs per kilometre per annum are given, with town subsidies and postal and passenger rates on the top of them. The roads in Northern Italy are good all the year round, being fairly well maintained, but in Southern Italy, during the present winter, digging out the mail coach on a " national " road is not uncommon. Delays are consequently serious there. Italy is not well served by railways, and the Government is giving all inducements possible for the opening up of ,agricultural districts. The Army Department already has a few motors of various types, but it will not have anything to do with machines over three tons in weight. People are not willing to lock up capital in carrying concerns, as here in England, but cases where splendid profits could be made, with guaranteed work, if a company were formed to supply and run motors, are before us. One successful carrying business was started to months ago, and it is the first of its kind ; there is, however, plenty of room for a number of well-managed concerns. In Rome and Milan, steamers are prohibited.
Agricultural motors are being asked for, but few sales have been effected.
The paraffin-engined lorry (not a motorcar engine with a paraffin carburetter, with which some firms are experimenting) should have a great future in Italy. The country is fast coming to the front for constructional work in all engineering branches, but it will never really compete with us in commercial motors, as they have not got the material. Our only serious competitors are the Germans, and they are busy now in trying to get their hold. It is to be hoped that, having started well, British firms will maintain their lead, and we are glad to know that several leading makers are moving.