Owens opts for Renault Premiums in move to cut annual fuel costs
18th August 2011
Page 8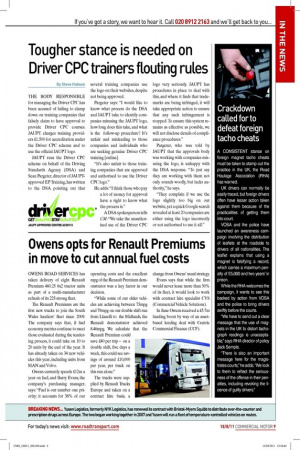 Page 8, 18th August 2011 —
Owens opts for Renault Premiums in move to cut annual fuel costs
Close
OWENS ROAD SERVICES has taken delivery of eight Renault Premium 460.25 6x2 tractor units as part of a multi-manufacturer refresh of its 225-strong leet.
The Renault Premiums are the irst new trucks to join the South Wales hauliers' leet since 2009. The company says that, if fuel economy metrics continue to meet those evaluated during the tendering process, it could take on 10 to 20 units by the end of the year. It has already taken on 34 new vehicles this year, including units from MAN and Volvo.
Owens currently spends £12m a year on fuel, and Barry Evans, the company's purchasing manager, says: "Fuel is our number one priority: it accounts for 38% of our operating costs and the excellent mpg of the Renault Premium demonstrator was a key factor in our decision.
"While some of our older vehicles are achieving between 7.5mpg and 7.9mpg on our double shift run from Llanelli to the Midlands, the Renault demonstrator achieved 8.46mpg. We calculate that the Renault Premium could save £40 per trip – on a double shift, ive days a week, this could see savings of around £10,000 per year, per truck on this run alone." The trucks were supplied by Renault Trucks Europe and taken on a contract hire basis, a change from Owens' usual strategy.
Evans says that while the irm would never lease more than 50% of its leet, it would look to work with contract hire specialist CVS (Commercial Vehicle Solutions).
In June Owens received a £5.7m funding boost by way of an assetbased lending deal with Centric Commercial Finance (CCF).