Iveco
18th August 2011
Page 42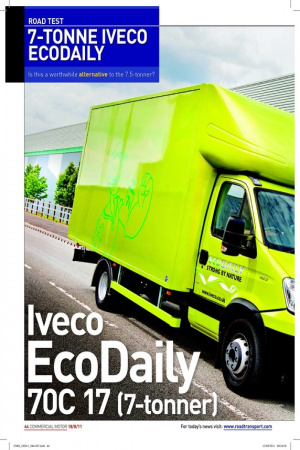 Page 43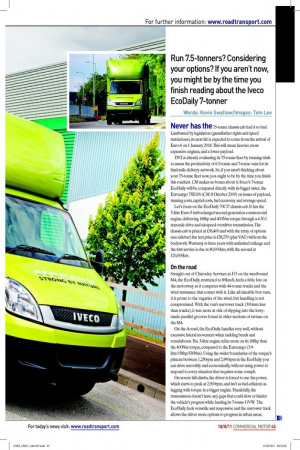 Page 44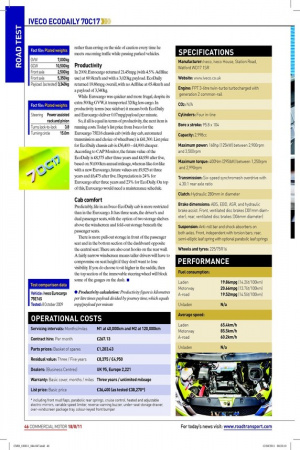 Page 42, 18th August 2011 —
Iveco
Close
coDa
70C 17 (7-tonner)
Run 7.5-tonners? Considering your options? If you aren't now, you might be by the time you finish reading about the Iveco EcoDaiLy 7-tonner
Words: Kevin Swallow/Images: Tom Lee
Never has the 7.5-tonne chassis cab had it so bad. Lambasted by legislation (grandfather rights and speed restrictions), its next hit is expected to come from the arrival of Euro-6 on 1 January 2014. This will mean heavier, more expensive engines, and a lower payload.
TNT is already evaluating its 7.5-tonne leet by running trials to assess the productivity of 6.5-tonne and 7-tonne vans for its inal-mile delivery network. So, if you aren't thinking about your 7.5-tonne leet now, you ought to be by the time you inish this roadtest. CM makes no bones about it: Iveco's 7-tonne EcoDaily will be compared directly with its bigger sister, the Eurocargo 75E16S (CM, 8 October 2009) on issues of payload, running costs, capital costs, fuel economy and average speed.
Let's focus on the EcoDaily 70C17 chassis cab. It has the 3-litre Euro-5 turbocharged second-generation common-rail engine, delivering 168hp and 400Nm torque through a 4.30:1 rear-axle drive and six-speed overdrive transmission. The chassis cab is priced at £36,400 and with the array of options (see sidebar) the test price is £38,270 (plus VAT) without the bodywork. Warranty is three years with unlimited mileage and the irst service is due at 40,000km, with the second at 120,000km.
On the road
Straight out of Chieveley Services at J13 on the westbound M4, the EcoDaily, restricted to 89km/h, feels a little lost on the motorway as it competes with 44-tonne trucks and the wind resistance that comes with it. Like all sizeable box vans, it is prone to the vagaries of the wind, but handling is not compromised. With the van's narrower track (300mm less than trucks), it was more at risk of slipping into the lorrymade parallel grooves found in older sections of tarmac on the M4.
On the A-road, the EcoDaily handles very well, without excessive lateral movement when tackling bends and roundabouts. The 3-litre engine relies more on its 168hp than the 400Nm torque, compared to the Eurocargo (3.9litre/158hp/530Nm). Using the wider boundaries of the torque's plateau between 1,250rpm and 2,990rpm in the EcoDaily you can drive smoothly and economically, without using power to respond to every situation that requires some oomph.
On severe hill climbs, the driver is forced to use the power, which starts to peak at 2,900rpm, and isn't as fuel-eficient as lugging with torque in a bigger engine. Thankfully, the transmission doesn't have any gaps that could slow or hinder the vehicle's progress while hauling its 7-tonne GVW. The EcoDaily feels versatile and responsive and the narrower track allows the driver more options to progress in urban areas, rather than erring on the side of caution every time he meets oncoming trafic while passing parked vehicles.
Productivity
In 2009, Eurocargo returned 21.45mpg (with 4.5% AdBlue use) at 69.9km/h and with a 3,020kg payload. EcoDaily returned 19.86mpg overall, with no AdBlue at 65.4km/h and a payload of 3,340kg.
While Eurocargo was quicker and more frugal, despite its extra 500kg GVW, it transported 320kg less cargo. In productivity terms (see sidebar) it means both EcoDaily and Eurocargo deliver 0.07mpg/payload per minute.
So, if all is equal in terms of productivity, the next item is running costs. Today's list price from Iveco for the Eurocargo 75E16 chassis cab (with day cab, automated transmission and choice of wheelbase) is £41,300. List price for EcoDaily chassis cab is £36,400 – £4,900 cheaper. According to CAP Monitor, the future value of the EcoDaily is £8,375 after three years and £4,950 after ive, based on 50,000km annual mileage, whereas like-for-like with a new Eurocargo, future values are £9,925 at three years and £6,475 after ive. Depreciation is 24% for Eurocargo after three years and 23% for EcoDaily. On top of this, Eurocargo would need a maintenance schedule.
Cab comfort
Predictably, life in an Iveco EcoDaily cab is more restricted than in the Eurocargo. It has three seats, the driver's and dual passenger seats, with the option of two storage shelves above the windscreen and fold-out storage beneath the passenger seats.
There is more pull-out storage in front of the passenger seat and in the bottom section of the dashboard opposite the central seat. There are also coat hooks on the rear wall. A fairly narrow windscreen means taller drivers will have to compromise on seat height if they don't want to lose visibility. If you do choose to sit higher in the saddle, then the top section of the immovable steering wheel will block some of the gauges on the dash. ■