Beating the fraudsters
18th August 2011
Page 24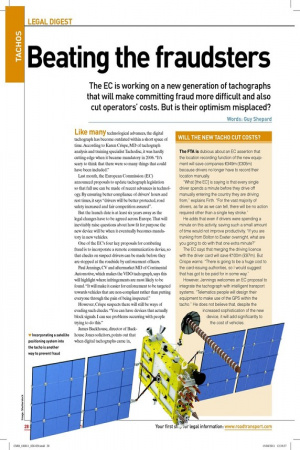 Page 25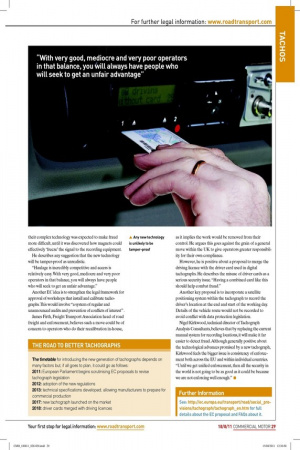 Page 24, 18th August 2011 —
Beating the fraudsters
Close
The EC is working on a new generation of tachographs that will make committing fraud more difficult and also cut operators' costs. But is their optimism misplaced?
Words: Guy Shepard Like many technological advances, the digital tachograph has become outdated within a short space of time. According to Karen Crispe, MD of tachograph analysis and training specialist Tachodisc, it was hardly cutting edge when it became mandatory in 2006. "It's scary to think that there were so many things that could have been included."
Last month, the European Commission (EC) announced proposals to update tachograph legislation so that full use can be made of recent advances in technology. By ensuring better compliance of drivers' hours and rest times, it says "drivers will be better protected, road safety increased and fair competition assured" .
But the launch date is at least six years away as the legal changes have to be agreed across Europe. That will inevitably raise questions about how it for purpose the new device will be when it eventually becomes mandatory in new vehicles.
One of the EC's four key proposals for combating fraud is to incorporate a remote communication device, so that checks on suspect drivers can be made before they are stopped at the roadside by enforcement oficers.
Paul Jennings, CV and aftermarket MD of Continental Automotive, which makes the VDO tachograph, says this will highlight where infringements are most likely to be found. "It will make it easier for enforcement to be targeted towards vehicles that are non-compliant rather than putting everyone through the pain of being inspected." However, Crispe suspects there will still be ways of evading such checks. "You can have devices that actually block signals. I can see problems occurring with people trying to do this." James Backhouse, director of Back house Jones solicitors, points out that when digital tachographs came in,
their complex technology was expected to make fraud ▲ Any new technology more dificult, until it was discovered how magnets could is unlikely to be effectively 'freeze' the signal to the recording equipment. tamper-proof
He describes any suggestion that the new technology will be tamper-proof as unrealistic.
"Haulage is incredibly competitive and access is relatively easy. With very good, mediocre and very poor operators in that balance, you will always have people who will seek to get an unfair advantage." Another EC idea is to strengthen the legal framework for approval of workshops that install and calibrate tachographs. This would involve "a system of regular and unannounced audits and prevention of conlicts of interest" .
James Firth, Freight Transport Association head of road freight and enforcement, believes such a move could be of concern to operators who do their recalibration in-house, as it implies the work would be removed from their control. He argues this goes against the grain of a general move within the UK to give operators greater responsibility for their own compliance.
However, he is positive about a proposal to merge the driving licence with the driver card used in digital tachographs. He describes the misuse of driver cards as a serious security issue. "Having a combined card like this should help combat fraud." Another key proposal is to incorporate a satellite positioning system within the tachograph to record the driver's location at the end and start of the working day. Details of the vehicle route would not be recorded to avoid conlict with data protection legislation.
Nigel Kirkwood, technical director of Tachograph Analysis Consultants, believes that by replacing the current manual system for recording locations, it will make it far easier to detect fraud. Although generally positive about the technological advances promised by a new tachograph, Kirkwood feels the bigger issue is consistency of enforcement both across the EU and within individual countries. "Until we get uniied enforcement, then all the security in the world is not going to be as good as it could be because we are not enforcing well enough." ■