Dealer fined £4.5k for preventable accident
18th August 2011
Page 19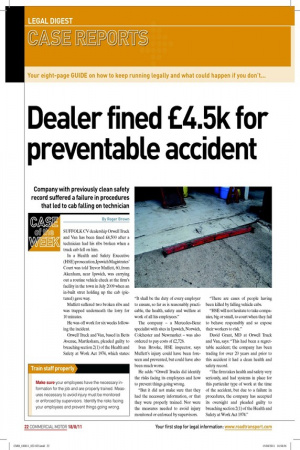 Page 19, 18th August 2011 —
Dealer fined £4.5k for preventable accident
Close
Company with previously clean safety record suffered a failure in procedures that led to cab falling on technician
By Roger Brown
SUFFOLK CV dealership Orwell Truck and Van has been ined £4,500 after a technician had his ribs broken when a truck cab fell on him.
In a Health and Safety Executive (HSE) prosecution, Ipswich Magistrates' Court was told Trevor Muffett, 60, from Akenham, near Ipswich, was carrying out a routine vehicle check at the irm's facility in the town in July 2009 when an in-built strut holding up the cab (pictured) gave way.
Muffett suffered two broken ribs and was trapped underneath the lorry for 10 minutes.
He was off work for six weeks following the incident.
Orwell Truck and Van, based in Betts Avenue, Martlesham, pleaded guilty to breaching section 2(1) of the Health and Safety at Work Act 1974, which states: "It shall be the duty of every employer to ensure, so far as is reasonably practicable, the health, safety and welfare at work of all his employees." The company – a Mercedes-Benz specialist with sites in Ipswich, Norwich, Colchester and Newmarket – was also ordered to pay costs of £2,726.
Ivan Brooke, HSE inspector, says Muffett's injury could have been foreseen and prevented, but could have also been much worse.
He adds: "Orwell Trucks did identify the risks facing its employees and how to prevent things going wrong.
"But it did not make sure that they had the necessary information, or that they were properly trained. Nor were the measures needed to avoid injury monitored or enforced by supervisors. "There are cases of people having been killed by falling vehicle cabs.
"HSE will not hesitate to take companies, big or small, to court when they fail to behave responsibly and so expose their workers to risk." David Grant, MD at Orwell Truck and Van, says: "This had been a regrettable accident; the company has been trading for over 20 years and prior to this accident it had a clean health and safety record.
"The irm takes health and safety very seriously, and had systems in place for this particular type of work at the time of the accident, but due to a failure in procedures, the company has accepted its oversight and pleaded guilty to breaching section 2(1) of the Health and Safety at Work Act 1974."