VI accused of 'vendetta'
18th April 1996
Page 8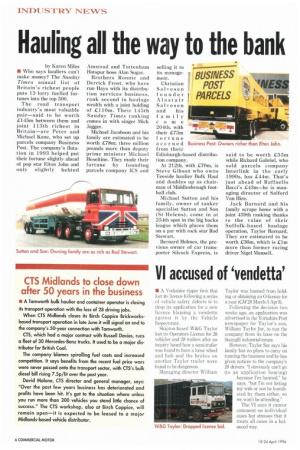 Page 8, 18th April 1996 —
VI accused of 'vendetta'
Close
• A Yorkshire tipper firm that lost its licence following a series of vehicle safety defects is to drop its application for a new licence blaming a vendetta against it by the Vehicle Inspectorate.
Skipton-based W&G Taylor lost its Operators Licence for 28 vehicles and 28 trailers after an inquiry heard how a semi-trailer was found to have a loose wheel and hub and the brakes on another Taylor trailer were found to be dangerous.
Managing director William Taylor was banned from holding or obtaining an 0-licence for a year (GM 28 March-3 April).
Following the decision two weeks ago, an application was advertised in the Yorkshire Post newspaper for Taylor's son, William Taylor Jnr, to run the company from its base on the Snaygill industrial estate.
However, Taylor Snr says his family has no plans to carry on running the business and he has given notices to the company's 28 drivers. "I obviously can't go (to an application hearing) because I'm banned," he says, "but I'm not letting my wife or son be humiliated by them either, so we won't be attending."
The VI says it cannot comment on individual cases but stresses that it treats all cases in a balanced way.