Test surcharge at designated sites
18th April 1996
Page 6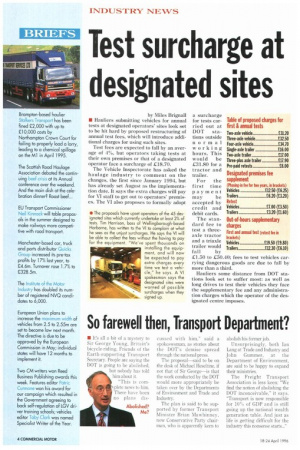 Page 6, 18th April 1996 —
Test surcharge at designated sites
Close
by Miles Brignall • Hauliers submitting vehicles for annual tests at designated operators' sites look set to be hit hard by proposed restructuring of annual test fees, which will introduce additional charges for using such sites.
Test fees are expected to fall by an average of 4%. but operators taking tests at their own premises or that of a designated operator face a surcharge of £18.70.
The Vehicle Inspectorate has asked the haulage industry to comment on the changes. the first since January 1994, but has already set August as the implementation date. It says the extra charges will pay for VI staff to get out to operators premises. The VI also proposes to formally adopt a surcharge for tests carried out at DOT stations outside normal working hours. This would be £31.80 for a tractor and trailer.
For the first time p a y in e n t may be accepted by credit and debit cards.
The standard fee to test a threeaxle tractor and a triaxle trailer would fall by £1.50 to £50.40; fees to test vehicles carrying dangerous goods are due to fall by more than a third.
Hauliers some distance from DOT stations look set to suffer most: as well as long drives to test their vehicles they face the supplementary fee and any administration charges which the operator of the designated centre imposes. • The proposals have upset operators of the 45 designated sites which currently undertake at least 2% of tests. Tim Harrison, boss of Wellingborough-based Harborne, has written to the Vito complain at what he sees as the unjust surcharges. lie says the VI will be able to collect the fees without the having to pay for the equipment. "We've spent thousands on installing the equipment, and will now be expected to pay extra charges every time we test a vehicle," he says. A VI spokesman says the designated sites were warned of possible surcharges when they deb signed up.