So farewell then, Transport Department?
18th April 1996
Page 6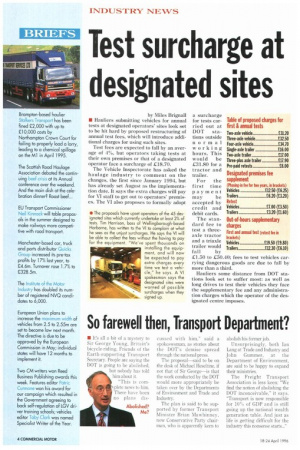 Page 6, 18th April 1996 —
So farewell then, Transport Department?
Close
• It's all a bit of a mystery to Sir George Young, Britain's bicycle-riding, Friends of the Earth-supporting Transport Secretary. People are saying the DOT is going to be abolished,
but nobody has told him about it.
"This is complete news to him. 'There have been no plans clis cussed with him," said a spokeswoman, as stories about the DOT's demise spread through the national press.
The proposal—said to be on the desk of Michael Heseltine, if not that of Sir George—is that the work conducted by the DOT would more appropriately be taken over by the Departments of Environment and Trade and Industry.
The plan is said to he supported by former Transport Minister Brian Mawhinney, now Conservative Party chairman, who is apparently keen to abolish his former job.
Unsurprisingly, both lan Lang at Trade and Industry and John Glimmer, at the Department of Environment, are said to be happy to expand their ministries.
The Freight Transport Association is less keen: "We find the notion of abolishing the DOT inconceivable," it says. "Transport is now responsible for 10% of GDP and is still going up the national wealth generation table. And just as life is getting difficult for the industry this nonsense starts..."