BRIEFS
18th April 1996
Page 6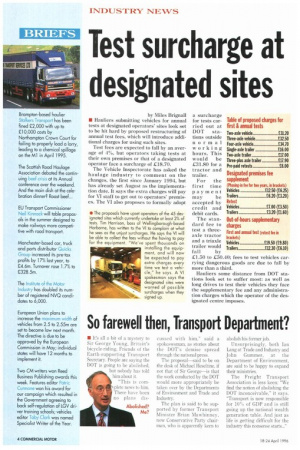 Page 6, 18th April 1996 —
BRIEFS
Close
Brampton-based haulier Stalkers Transport has been fined £2,000 with up to £10,000 costs by Northampton Crown Court for failing to properly load a lorry, leading to a chemical spillage on the M1 in April 1995.
The Scottish Road Haulage Association debated the continuing beef cll. at its Annual conference over the weekend. And the main dish at the celebration dinner? Roast beef...
EU Transport Commissioner Neil Kinnock will table proposals in the summer designed to make railways more competitive with rood transport.
Manchester-based car, truck and parts distributor Quicks Group increased its pre-tax profits by 17% last year, to £4.6m. Turnover rose 1.7% to £328.5m.
The Institute of the Motor Industry has doubled its number of registered NVC) candidates to 6,000.
European Union plans to increase the maximum width of vehicles from 2.5 to 2.55m are set to become law next month. The directive is due to be approved by the European Commission in May; individual states will have 12 months to implement it.
Two CM writers won Reed Business Publishing awards this week. Features editor Patric Conncine won his award for our campaign which resulted in the Government agreeing to back self-regulation of LGV driver training schools; vehicles editor roby Clo/k was named Specialist Writer of the Year.