'Suppliers are offering ever-more death-defying delivery deadlines'
18th April 1996
Page 58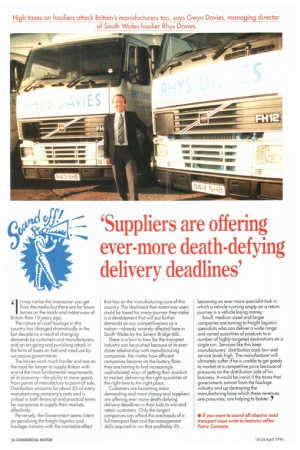 Page 58, 18th April 1996 —
'Suppliers are offering ever-more death-defying delivery deadlines'
Close
4 1 t may not be the impression you get From the media but there are far fewer lorries on the roads and motorways of
Britain than 10 years ago. The nature of road haulage in this country has changed dramatically in the last decade as a result of changing demands by customers and manufacturers, and an on-going and punishing attack in the form of taxes on Fuel and road use by successive governments.
The lorries work much harder and are on the road for longer to supply Britain with one of the most fundamental requirements of its economy—the ability to move goods from points of manufacture to point-of-sale. Distribution accounts for about 5% of every manufacturing company's costs and is critical in both financal and practical terms for companies to supply their markets effectively.
Perversely, the Government seems intent on penalising the freight logistics and haulage industry with the inevitable effect that has on the manufacturing core of this country. The likelihood that motorway users could be taxed for every journey they make is a development that will put further demands on our competitiveness as a nation—already severely affected here in South Wales by the Severn Bridge tolls. There Is a limit to how far the transport industry can be pushed because of its evercloser relationship with manufacturing companies. No matter how efficient companies become on the factory hoar, they ore having to find increasingly sophisticated ways of getting their product to market, delivering the right quantities at the right time to the right place.
Customers are becoming more demanding and more choosy and suppliers are offering ever-more death-defying delivery deadlines in their bids to win and retain customers. Only the largest companies can afford the overheads of a full transport fleet and the management skills required to run that profitably. It's becoming an ever-more specialist task in which a vehicle running empty on a return iourney is a vehicle losing money. Small, medium sized and larger companies are turning to freight logistics specialists who can deliver a wide range and varied quantities of products to a number of highly-targeted destinations on a single run. Services like this keep manufacturers' distribution costs low and service levels high. The manufacturer will ultimately suffer if he is unable to get goods to market at a competitive price because of pressures on the distribution side of his business. It would be ironic if the taxes that governments extract from the haulage industry end up destroying the manufacturing base which these revenues, one presumes, are helping to bolster.
• If you want to sound off about a road transport issue write to features editor Patric Cunnane.