EXP RESS S ome operators daydream of selling their business to a
18th April 1996
Page 56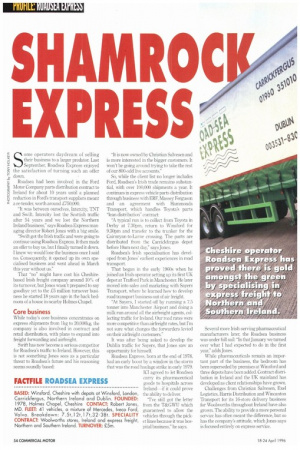 Page 57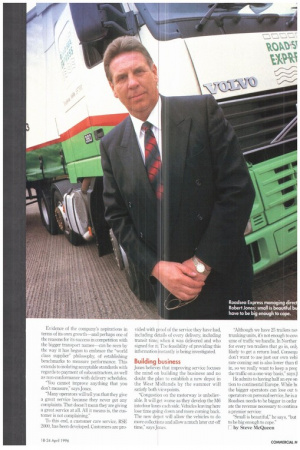 Page 56, 18th April 1996 —
EXP RESS S ome operators daydream of selling their business to a
Close
larger predator. Last September, Roadsea Express enjoyed the satisfaction of turning such an offer down.
Roadsea had been involved in the Ford Motor Company parts distribution contract to Ireland for about 10 years until a planned reduction in Ford's transport suppliers meant a re-tender, worth around £750,000.
"It was between ourselves, Intercity, TNT and Swift. Intercity lost the Scottish traffic after 54 years and we lost the Northern Ireland business:. says Roadsea Express managing director Robert Jones with a big smile.
"Swift got the Irish traffic and were going to continue using Roadsea Express. It then made an offer to buy us, but 1 finally turned it down. I knew we would lose the business once 1 said no. Consequently, it opened up its own specialised business and went ahead in March this year without us," That "no" might have cost his Cheshirebased Irish freight company around 10"..6 of its turnover, but Jones wasn't prepared to say goodbye yet to the £5 million turnover business he started 18 years ago in the back bedroom of a house in nearby Holmes Chapel.
Core business
While today's core business concentrates on express shipments from lkg to 20,000kg, the company is also involved in contract and retail distribution, with plans to expand into freight forwarding and airfreight.
Swift has now become a serious competitor for Roadsea's traffic to Ireland. However, this is not something Jones sees as a particular threat to Roadsea's future and his reasoning seems soundly based: "It is now owned by Christian Salvesen and is more interested in the bigger customers. It won't be going around trying to take the rest of our 800-odd live accounts."
So, while the client list no longer includes Ford, Roadsea's Irish trade remains substantial, with over 100,000 shipments a year. It continues in express vehicle parts distribution through business with ERE, Massey Ferguson and an agreement with Hammonds Transport, which handles Toyota's parts "lean distribution" contract: "A typical run is to collect from Toyota in Derby at 7.30pm, return to Winsford for 9.30pm and transfer to the thinker for the Cairnryan-to-Larne crossing. The parts are distributed from the Carrickfergus depot before 10am next day," says Jones.
Roadsea's Irish specialisation has developed from Jones' earliest experiences in road transport.
That began in the early 1960s when he joined an Irish operator setting up its first UK depot at Trafford Park in Manchester. He later moved into sales and marketing with Sayers Transport. where he learned how to develop road transport business out of air freight.
"At Sayers, I started off by running a 7.3 tomer into Manchester Airport and doing a milk run around all the airfreight agents, collecting traffic for Ireland. Our road rates were more competitive than airfreight rates, but I'm not sure what charges the forwarders levied on their airfreight customers."
It was after being asked to develop the Dublin traffic for Sayers, that Jones saw an opportunity for himself.
Roadsea Express, born at the end of 1978, had an early boost by a window in the storm that was the road haulage strike in early 1979. ICI agreed to let Roadsea carry its pharmaceutical goods to hospitals across Ireland—if it could prove the ability to deliver.
"I've still got the letter from the T&GW1.1 which guaranteed to allow the vehicles through the picket lines because it was hospital business," he says.
Several more Irish-serving pharmaceutical manufacturers later, the Roadsea business was under full sail: "In that January we turned over what I had expected to do in the first year," adds Jones.
While pharmaceuticals remain an important part of the business, the bedroom has been superseded by premises at Winsford and three depots have been added. Contract distribution in Ireland and the UK mainland has developed as client relationships have grown.
Challenges from Christian Salvesen, Exel Logistics, Harris Distribution and Wiricanton Transport for its 16-store delivery business for Woolworths throughout Ireland have also grown. The ability to provide a more personal service has often meant the difference, but so has the company's attitude, which Jones says is focused entirely on express service. Evidence of the company's aspirations in terms of its own growth—and perhaps one of the reasons for its success in competition with the bigger transport names—can be seen by the way it has begun to embrace the "world class supplier" philosophy of establishing benchmarks to measure performance. This extends to isolating acceptable standards with regards to payment of subcontractors, as well as non-conformance with delivery schedules.
"You cannot improve anything that you don't measure," says Jones.
"Many operators will tell you that they give a great service because they never get any complaints. That doesn't mean they are giving a great service at all. All it means is, the customer is not complaining."
To this end, a customer care service. RSE 2000, has been developed. Customers are pro
vided with proof of the service they have had, including details of every delivery including transit time, when it was delivered and who signed for it. The feasibility of providing this information instantly is being investigated.
Building business
Jones believes that improving service focuses the mind on building the business and no doubt the plan to establish a new depot in the West Midlands by the summer will satisfy both viewpoints.
"Congestion on the motorway is unbelievable. It will get worse as they develop the M6 into four lanes each side. Vehicles leaving here lose time going down and more coming back. The new depot will allow the vehicles to do more collections and allow a much later cut-off time," says Jones.
"Although we have as trailers no trunking units, it's not enough to covi ume of traffic we handle. In Norther. for every ten trailers that go in, on13 likely to get a return load. Consequ don't want to use just our own vehi rate coming out is also lower than ti in, so we really want to keep a pror the traffic on a one-way basis," says]
He admits to having half an eye on tion to continental Europe. While II( the bigger operators can lose out ti operators on personal service, he is a Roadsea needs to be bigger in order ate the revenue necessary to continu. a premier service: "Small is beautiful," he says, "but to be big enough to cope.''
by Steve McQueen