Hard core haulier
18th April 1996
Page 54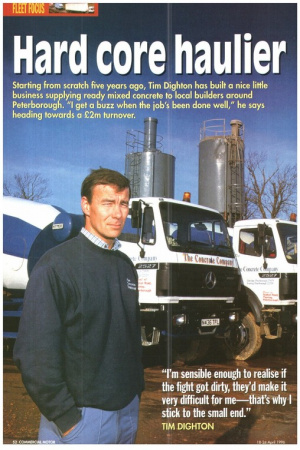 Page 55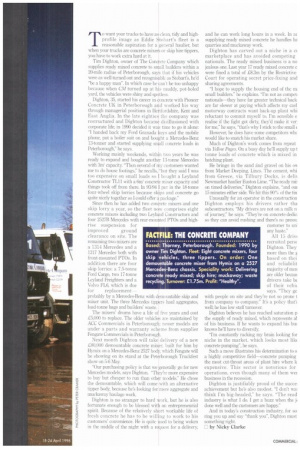 Page 54, 18th April 1996 —
Hard core haulier
Close
To want your trucks to have as clean, tidy and highprofile image as Eddie Stobart's fleet is a reasonable aspiration for a general haulier, but when your trucks are concrete mixers or skip hire tippers, you have to work extra hard at it.
Tim Dighton, owner of The Conacte Company which supplies ready mixed concrete to small builders within a 20-mile radius of Peterborough, says that if his vehicles were as well turned out and recognisable as Stobart's, he'd "be a happy man". In which case he can't be too unhappy because when CM turned up at h6 muddy. pot-holed yard, the vehicles were shiny and spotless.
Dighton, 35, started his career in concrete with Pioneer Concrete UK in Peterborough and worked his way through managerial positions in Hertfordshire, Kent and East Anglia. In the late eighties the company was restructured and Dighton became dkillusioned with corporate life; in 1990 decided it was tune to go it alone: "[handed back my Ford Granada keys and the mobile phone, put a boiler suit on and bought a Mercedes-Benz 13-tonner and started supplying small concrete loads in Peterborough," he says.
Working mainly weekends, within two years he was ready to expand and bought another 13-tonne Mercedes with 3m' capacity "Then several of my customers wanted me to do house footings," he recalls. "but they said I was too expensive on small loads so I bought a Leyland Constructor 11.1I with a 6m' concrete mixer capacity and things took off from there. In 93/94 1 put in the 18-tonne four-wheel skip lorries because skips and concrete go quite nicely together so [could offer a package."
Since then he has added two concrete mixers and one skip lorry a year, so the fleet now comprises eight concrete mixers including two Leyland Constructors and four 2527B Mercedes with rear-mounted PTOs and highrise suspension for improved ground clearance on site. The remaining two mixers are a 1314 Mercedes and a 1317 Mercedes both with front-mounted PT0s. In addition there are four skip lorries: a 7.5-tonne Ford Cargo, two I7-tonne Leyland Freighters and a Volvo FL,6, which is due for replacement probably by a Mercedes-Benz with demountable skip and mixer unit. The three Mercedes tippers haul aggregates, load-tonne bags and builders' waste.
The mixers' drums have a life of five years and cost £5,000 to replace. The older vehicles are maintained by ACC Commercials in Peterborough; newer models are under a parts and warranty scheme from supplier Fengate Commercials in Peterborough.
Next month Dighton will take delivery of a new £80,000 demountable concrete mixer, built for him by Hymix on a Mercedes-Benz 2527 body which Fengate will be showing on its stand at the Peterborough Truckfest show on 5-6 May.
"Our purchasing policy is that we generally go for new Mercedes models, says Dighton. "They're more expensive to buy but cheaper to run than other models." He chose the demountable, which will come with an alternative tipper body, because he's looking for more aggregate and muckaway haulage work.
Dighton is no stranger to hard work, but he is also fortunate enough to be blessed with an entrepreneurial spirit. Because of the relatively short workable life of fresh concrete he has to be willing to work to his customers' convenience. He is quite used to being woken in the middle of the night with a request for a delivery,
FACTFILE: THE CON CRETE COMPANY
and he can work long hours in a week. In at supplying ready mixed concrete he handles ho quarries and muckaway work.
Dighton has carved out a niche in a ct marketplace and has avoided competing nationals. The ready mixed business is a no jealous one. Last year 17 ready mixed concrete c were fined a total of 18.3rn by the Restrictive Court for operating secret price-fixing and sharing agreements.
"I hope to supply the housing end of the in small builders." he explains. "I'm not as competi nationals—they have far greater technical back are far slower at paying which affects my cash motorway contracts want back-up plant whi reluctant to commit myself to. I'm sensible e realise if the fight got dirty, they'd make it ver, for me," he says, "that's why I stick to the small t
However, he does have some competitors whc would like to snatch his market share.
Much of Dighton's work comes from repeat via Yellow Pages. On a busy day he'll supply up I tonne loads of concrete which is mixed in hatching plant.
He brings in the sand lind gravel on his ost from Market Deeping, Lincs. The cement, whi from Greece, via Tilbury Docks, is delis Newmarket haulier Huston Lime. "The ready mi: on timed deliveries," Dighton explains, "and ow 15 minutes either side. We hit this 90% of the tin Unusually for an operator in the construction Dighton employs his drivers rather tha subcontractors. "My drivers are not on a milk rc of journey," he says. "They're on concrete-dedic so they can avoid rushing and there's no pres.st customer to unl any haste."
All 15 drivo recruited persc Dighton. They more than the g based on thei and reliabilit majority of men are older becalm drivers take bt of their vehii says. "They ge With) people on site and they're not so prone t from company to company." It's a policy that's well: he has low staff turnover.
Dighton believes he has reached saturation p the supply of ready mixed, which represents at of his business. If he wants to expand his bm knows he'll have to diversify "I'm constantly racking my brain looking for niche in the market, which looks most lik( concrete pumping", he says.
Such a move illustrates his determination to s a highly competitive field—concrete pumping the most cut-throat areas of plant hire where k expensive. This sector is notorious for operations, even though many of them we business in the recession.
Dighton is justifiably proud of the :meet achievement but he's also modest. "I don't wai think I'm big-headed," he says. "The read industry is what I do. I get a buzz when the ji done well and the customers are happy."
And in today's construction industry, for so: ring you up and say "thank you", Dighton must something right.
El by Nicky Clarke