Breakdown length
18th April 1996
Page 51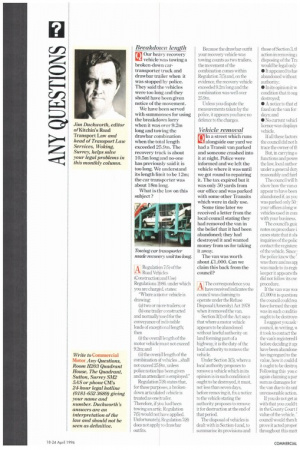 Page 51, 18th April 1996 —
Breakdown length
Close
Our heavy recovery vehicle was towing a broken-down cartransporter truck and drawbar trailer when it was stopped by police. They said the vehicles were too long and they should have been given notice of the movement.
We have been served with summonses for using the breakdown lorry when it was over 9.2m long and towing the drawbar combination when the total length exceeded 25.9m. The recovery truck is about 10.5m long and no-one has previously said it is too long. We understand its length limit to be 12m; the car transporter was about 18m long.
What is the law on this subject ?
ARegulation 715) of the
Road Vehicles (Construction and Use) Regulations 1986. under which you are charged, states: "Where a motor vehicle is drawing.
(a) two or more trailers; or (b) one trailer constructed and normally used for the conveyance of indivisible loads of exceptional length; then (i) the overall length of the motor vehicle must not exceed 9.2tn; and (ii) the overall length of the combination of vehicles ...shall not exceed 25.9m, unless police notice has been given and an attendant is employed."
Regulation 7(8) states that, for these purposes, a brokendown articulated vehicle is treated as one trailer.
Therefore, if you had been towing an artic. Regulation 7(5) would not have applied. Unfortunately, Regulation 7(8) does not apply to drawbar outfits.
Because the drawbar outfit your recovery vehicle was towing counts as two trailers, the movement of the combination comes within Regulation 7(5) and, on the evidence, the recovery vehicle exceeded 92m long and the combination was well over 25.9m.
Unless you dispute the measurements taken by the police, it appears you have no defence to the charges.