FORD TRANSIT 5 he Ford Transit is one of the
18th April 1996
Page 48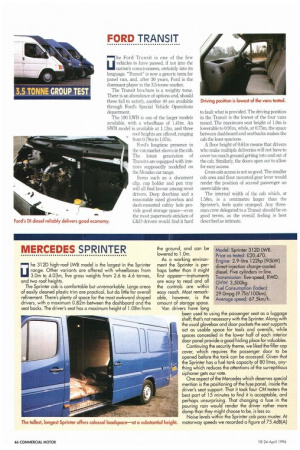 Page 49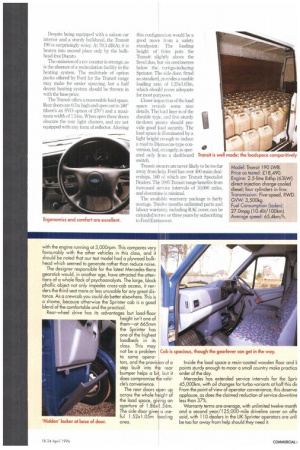 Page 48, 18th April 1996 —
FORD TRANSIT 5 he Ford Transit is one of the
Close
few vehicles to have passed, if not into the nation's consciousness, certainly into its language. "Transit" is now a generic term for panel van, and, after 30 years, Ford is the dominant player in the 3.5-tonne market.
The Transit brochure is a weighty tome. There is an abundance of options and, should these fail to satisfy, another 40 are available through Ford's Special Vehicle Operations department.
The 190 I.WB is one of the larger models available, with a wheelbase of 1.41m. An SW11 model is available at 1.12m, and three roof heights are offered, ranging from 0.79m to 1.07m.
Ford's longtime presence in the van market shows in the cab. The latest generation of Transits are equipped with interiors supposedly modelled on the Monde° car range.
Items such as a document clip, cup holder and pen tray will all find favour among most drivers. Deep doorbins and a reasonable sized glovebox and dash mountedcubby hole provide good storage space—even the most paperwork-stricken of C&D drivers would find it hard to fault what is provided. The driving position in the Transit is the lowest of the four vans tested. The maximum seat height of 1.0m is lowerable to 0.91m, while, at 0.75m, the space between dashboard and seatbacks makes the cab the least spacious.
A floor height of 0.8lm means that drivers who make multiple deliveries will not have to cover too much ground getting into and out of the cab. Similarly, the doors open out to allow for easy access.
Cross-cab access is not so good. The smaller cab area and floor mounted gear lever would render the position of second passenger an unenviable one.
The internal width of the cab which, at 1.58m, is a centimetre larger than the Sprinter's. feels quite cramped. Any threeman crew delegated to a Transit should be on good terms, as the overall feeling is best described as intimate. Despite being equipped with a saloon car interior and a sturdy bulkhead, the Transit 190 is surprisingly noisy. At 793 dB(A), it is beaten into second place only by the bulkhead-free Ducat°.
The omission of a rev counter is strange, as is the absence of a recirculation facility in the heating system. The multitude of option packs offered by Ford for the Transit range may make for easier speccing, but a half decent heating system should be thrown in with the base price.
The Transit offers a reasonable load space. Rear doors are 0.7in high and open out to 1800 (there's an SVO option of 2701 and a maximum width of 1.54m. When open these doors obscure the rear light dusters, and are not equipped with any form of reflector. Altering this configuration would be a good move from a safety standpoint. The loading height of 0.tim puts the Transit slightly above the Sevel duo, but six centimetres below the vertigo-inducing Sprinter. The side door, fitted as standard, provides a usable loading area of 125x1.03m, which should prove adequate for most purposes.
Closer inspection of the load space reveals some nice details. The load liner is of the durable type, and five sturdy tie-down points should provide good load security. The load space is illuminated by a light bright em nigh to induce a road to Damascus-type conversion, but strangely, is operated only from a dashboard switch.
Transit owners are never likely to be too far away from help. Ford has over 400 main deal. erships, 160 of which are Transit Specialist Dealers, The 1995 Transit range benefits from increased service intervals of 10,000 miles. and downtime is minimal.
The available warranty package is fairly average. Twelve months unlimited parts and labour warranty, including RAC cover, can be extended to two or three years by subscribing to Ford Extra cover.
Model: Transit 190 LWB. Price as tested218,490. Engine: 2.5-litre 84hp (63kW) direct-injection charge-cooled diesel; four cylinders in-line. Transmission: Five-speed, RWD. GVW: 3,500kg.
Fuel Consumption (laden): 27.0mpg (10.41it/100km) Average speed: 65.4km/h.