FIAT DUCATO 5 he Fiat Ducat°, as almost twin brother
18th April 1996
Page 46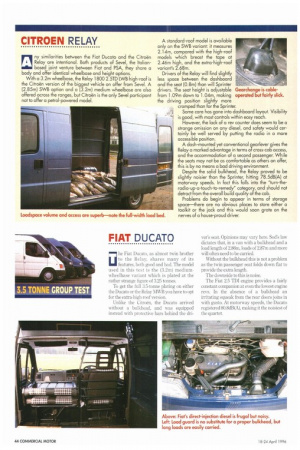 Page 47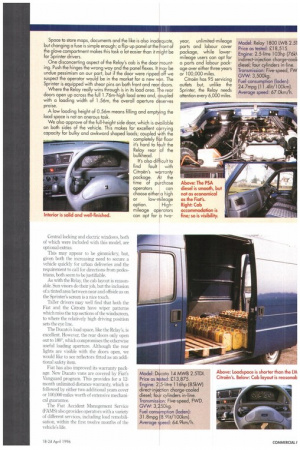 Page 46, 18th April 1996 —
FIAT DUCATO 5 he Fiat Ducat°, as almost twin brother
Close
to the Relay, shares many of its features, both good and bad. The model used in this test is the (3.2m) mediumwheelbase variant which is plated at the rather strange figure of 3.25 tonnes.
To get the full 35-tonne plating on either the Ducato or the Relay MWB you have to opt for the extra-high-roof version.
Unlike the Citron, the Ducat° arrived without a bulkhead, and was equipped instead with protective bars behind the dri ver's seat, Opinions may vary here. Sod's law dictates that, in a van with a bulkhead and a load length of 2.86m, loads of 2.87m and more will often need to be carried.
Without the bulkhead this is not a problem as the twin passenger seat folds down flat to provide the extra length.
The downside to this is noise.
The Fiat 2.5 TDI engine provides a fairly constant companion at even the lowest engine revs. In the absence of a bulkhead an irritating squeak from the rear doors joins in with gusto. At motorway speeds, the Ducato registered 80.8dB(A), making it the noisiest of the quartet.
Central locking and electric windows, both of which were included with this model, are optional extras.
This may appear to be gimmickry, but, given both the increasing need to secure a vehicle quickly for urban deliveries and the requirement to call for directions from pedestrians, both seem to be justifiable.
As with the Relay, the cab layout is reasonable. Sun visors do their job, but the inclusion of a tinted area between near and offside as on the Sprinter's screen is a nice touch.
Taller drivers may well find that both the Fiat and the Citroen have wiper patterns which miss the top sections of the windscreen, to where the relatively high driving position sets the eye line.
The Ducato's load space, like the Relay's, is excellent. However, the rear doors only open out to 180°, which compromises the otherwise useful loading aperture. Although the rear lights are visible with the doors open, we would like to see reflectors fitted as an additional safety item.
Fiat has also improved its warranty package. New Ducat() vans are covered by Fiat's Vanguard program. This provides for a 12month unlimited distance warranty, which is followed by either two additional years cover or 100,000 miles worth of extensive mechanical guarantee.
The Fiat Accident Management Service (FAMS) also provides operators with a variety of different services, including load remobilisation, within the first twelve months of the vehicle's life.
Model: Ducat° 14 MWB 2.5TDI, Price as tested: 213,875. Engine: 2.5-litre 116hp (85kW) direct-injection charge-cooled diesel; four cylinders in-line. Transmission: Five-speed, FWD. GVVV: 3,250kg.
Fuel consumption (laden): 31.8mpg (8.91it/100km). Average speed: 64.9km/h.