PAN
18th April 1996
Page 44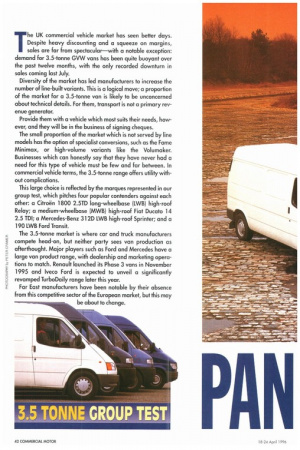 Page 45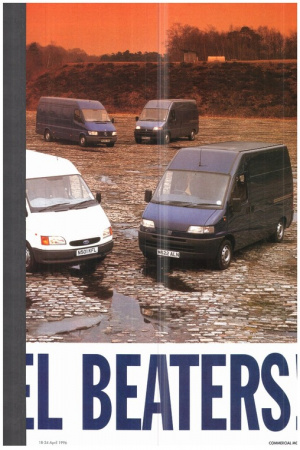 Page 44, 18th April 1996 —
PAN
Close
BEATERS' The UK commercial vehicle market has seen better days. Despite heavy discounting and a squeeze on margins, sales are far from spectacular—with a notable exception: demand for 3.5-tonne GVW vans has been quite buoyant over the past twelve months, with the only recorded downturn in sales coming last July.
Diversity of the market has led manufacturers to increase the number of line-built variants. This is a logical move; a proportion of the market for a 3.5-tonne van is likely to be unconcerned about technical details. For them, transport is not a primary revenue generator.
Provide them with a vehicle which most suits their needs, however, and they will be in the business of signing cheques.
The small proportion of the market which is not served by line models has the option of specialist conversions, such as the Fame Minimax, or high-volume variants like the Volumaker. Businesses which can honestly say that they have never had a need for this type of vehicle must be few and far between. In commercial vehicle terms, the 3.5-tonne range offers utility without complications.
This large choice is reflected by the marques represented in our group test, which pitches four popular contenders against each other: a Citroen 1800 2.5TD long-wheelbase (LWB) high-roof Relay; a medium-wheelbase (MWB) high-roof Fiat Ducato 14 2.5 TDI; a Mercedes-Benz 312D LWB high-roof Sprinter; and a 190 LWB Ford Transit.
The 3.5-tonne market is where car and truck manufacturers compete head-on, but neither party sees van production as afterthought. Major players such as Ford and Mercedes have a large van product range, with dealership and marketing operations to match. Renault launched its Phase 3 vans in November 1995 and Iveco Ford is expected to unveil a significantly revamped TurboDaily range later this year.
Far East manufacturers have been notable by their absence from this competitive sector of the European market, but this may be about to change.