' 5TH H auliers caught up in the 1996 beef crisis can
18th April 1996
Page 36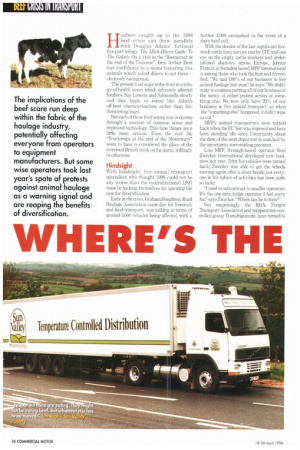 Page 37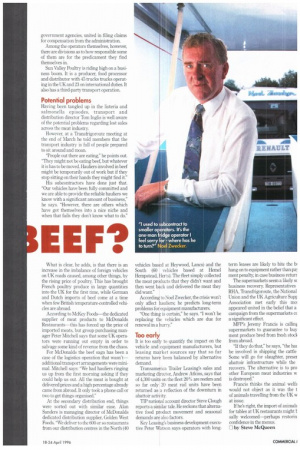 Page 36, 18th April 1996 —
' 5TH H auliers caught up in the 1996 beef crisis can
Close
draw parallels with Douglas Adams' fictional five-part trilogy, The Hitch-Hikers Guide To The Galaxy. On a visit to the "Restaurant at the end of the Universe", hero Arthur Dent lost confidence in a menu featuring live animals which asked diners to eat them— obviously raving mad.
The present food scare is the third in a trilogy of health issues which adversely affected hauliers, Say Listeria and Salmonella slowly and they begin to sound like Adam's off-beat characterisations rather than life. threatening bugs.
But each of those food scares was overcome through a mixture of common sense and improved technology. This time things are a little more serious. Even the real life "Truckstops at the end of the Motorways" seem to have re-considered the place of the esteemed British steak on the menu, willingly or otherwise.
Hindsight
With hindsight, live animal transport specialists who thought 1996 could not be any worse than the confrontational 1995 must be kicking themselves for ignoring the case for diversification.
Early in the crisis, Graham Houghton, Road Haulage Association controller for livestock and food transport, was talking in terms of around 5,000 vehicles being affected, with a further 2,000 earmarked in the event of a dairy herd cull.
With the demise of the last significant livestock cattle ferry service run by ITF, and one eye on the empty cattle markets and underutilised abattoirs across Europe, Jeremy Francis at Swindon-based MFP International is among those who took the hint and diversified: "We had 100% of our business in live animal haulage last year," he says. "We didn't want to continue putting all of our business at the mercy of either protest action or something else. We now only have 20% of our business in live animal transport, so when the "something else" happened, it didn't wipe us out."
MFP's animal transporters were turned back when the Et/ ban was imposed and have been standing idle since. Uncertainty about the date of the next departure is matched by the uncertainty surrounding payment.
Like MFP, Armagh-based operator Noel Zwecker International developed new business last year. After his vehicles were turned back, Zwecker was able to get the wheels moving again after a short break; not everyone in his sphere of activities has been quite so lucky.
"I used to subcontract to smaller operators. It's the one-man fridge operator I feel sorry for," says Zwecker. "Where has he to turn?"
Not surprisingly, the RHA, Freight Transport Association and temperature controlled group Transfrigoroute, have turned to government agencies, united in filing claims for compensation from the administration.
Among the operators themselves, however, there are divisions as to how responsible some of them are for the predicament they find themselves in.
Sun Valley Poultry is riding high on a business boom. It is a producer, food processor and distributor with 45 trucks trucks operating in the UK and 23 on international duties. It also has a third-party transport operation.
Potential problems
Having been tangled up in the listeria and salmonella episodes, transport and distribution director Tom Inglis is well aware of the potential problems regarding lost sales across the meat industry.
However, at a Transfrigoroute meeting at the end of March he told members that the transport industry is full of people prepared to sit around and moan.
"People out there are eating," he points out. 'They might not be eating beef, but whatever it is has to be moved. Hauliers involved in beef might be temporarily out of work but if they stop sitting on their hands they might find it."
His subcontractors have done just that. "Our vehicles have been fully committed and we are able to provide the reliable hauliers we know with a significant amount of business," he says. "However, there are others which have got themselves into a nice niche and when that fails they don't know what to do."
What is clear, he adds, is that there is an increase in the imbalance of foreign vehicles on UK roads caused, among other things, by the rising price of poultry. This has brought French poultry produce in large quantities into the UK for the first time, while German and Dutch imports of beef come at a time when few British temperature-controlled vehicles are abroad.
According to McKey Foods—the dedicated supplier of meat products to McDonalds Restaurants—this has forced up the price of imported meats, but group purchasing manager Peter Mitchell says that some UK operators were running out empty in order to salvage some kind of revenue from the chaos.
For McDonalds the beef saga has been a case of the logistics operation that wasn't— additional transport arrangements were minimal. Mitchell says: "We had hauliers ringing us up from the first morning asking if they could help us out. All the meat is bought at delivered prices and a high percentage already came from abroad. It only took a phone call or two to get things organised."
At the secondary distribution end, things were sorted out with similar ease. Alan Sanders is managing director of McDonalds dedicated distribution supplier, Golden West Foods. "We deliver to the 600 or so restaurants from our distribution centres in the North (40 vehicles based at Heywood, Lancs) and the South (60 vehicles based at Hemel Hempstead, Hers). The fleet simply collected the meat products that they didn't want and then went back and delivered the meat they did want."
According to Noel Zwecker, the crisis won't only affect hauliers; he predicts long-term problems for equipment manufacturers "One thing is certain," he says. "I won't be replacing the vehicles which are due for renewal in a hurry"
Too early
It is too early to quantify the impact on the vehicle and equipment manufacturers, but leasing market sources say that so far returns have been balanced by alternative demand.
Transamerica Trailer Leasing's sales and marketing director, Andrew Atkins, says that of 4.300 units on the fleet 20% are reefers and so far only 20 meat rail units have been returned as a reflection of the downturn in abattoir activity.
TIP national account director Steve Clough reports a similar tale. He reckons that alternative food product movement and seasonal demands are also factors.
Key Leasing's business development executive Peter Watson says operators with long term leases are likely to bite the hi hang on to equipment rather than par, ment penalty, in case business returr
The supermarkets seem a likely sc business recovery Representatives RHA, Transfrigoroute, the National Union and the UK Agriculture SupF Association met early this ma appeared united in the belief that a campaign from the supermarkets cc a significant effect.
MFP's Jeremy Francis is callini supermarkets to guarantee to buy ment produce bred from fresh stock from abroad.
"If they do that," he says, "the hat be involved in shipping the cattle Some will go for slaughter, preset abattoir infrastructure while the recovers. The alternative is to pro other European meat industries w is destroyed."
Francis thinks the animal welfa would not object as it was the t of animals travelling from the UK w at issue.
If he's right, the import of animals for tables at UK restaurants might I sally welcomed—perhaps restorin confidence in the menus.
ED by Steve McQueen
Tags
People
:
Arthur Dent
,
Tom Inglis
,
Peter Mitchell
,
Alan Sanders
,
Jeremy Francis
,
Peter Watson
,
Graham Houghton
,
Andrew Atkins
,
Zwecker
,
Steve Clough
,
Steve McQueen
,
Douglas Adams