FUTURE LEGISLATION
18th April 1996
Page 34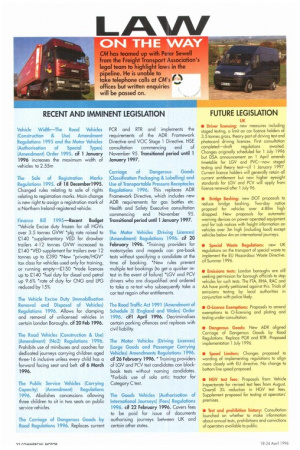 Page 34, 18th April 1996 —
FUTURE LEGISLATION
Close
UK • Driver licensing: new measures including staged testing, a limit on car licence holders of 3.5 tonnes gross, theory part of driving test and Photocard driving licences. First consultation completed—draft regulations awaited. Changes originally scheduled for 1 July 1996 but DSA announcement on 1 April amends timetable for LGV and PVC—now staged testing and theory test—cif 1 January 1997. Current licence holders will generally retain all current entitlement but new higher eyesight standards for LGV and PCV will apply from licence renewal after 1 July 96.
• Bridge Bashing: new DOT proposals to reduce bridge bashing. Two-day notice proposal for vehicles over 4.88m high dropped. New proposols for automatic warning devices on power-operated equipment and forcab notices with height information on vehicles over 3m high (including load) except vehicles below 4m on international journeys.
• Special Waste Regulations: new UK regulations on the transport of special waste to implement the EU Hazardous Waste Directive. cif Summer 1996.
• Emissions tests: London boroughs are still seeking permission for borough officials to stop vehicles for such tests. The FTA, RHA, RAC and AA have jointly petitioned against this. Trials of emissions testing by local authorities in conjunction with police likely.
• 0-Licence Exemptions: Proposals to amend exemptions to 0-licensing and plating and testing under consultation.
• Dangerous Goods: New ADR aligned Carriage of Dangerous Goods by Road Regulations. Replace PGR and RIR. Proposed implementation 1July 1996.
• Speed Limiters: Changes proposed to wording of implementing regulations to align more closely with EU directive. No change to bottom line speed proposed.
• HGV test fees: Proposals from Vehicle Inspectorate for revised test fees from August. Overall 3% reduction in HGV test fees, Supplement proposed for testing at operators' premises.
• Test and prohibition history: Consultation launched on whether to make information about annual tests, prohibitions and convictions of operators available to public.