A mutt point 0 merican truck , manufacturer Mack has
18th April 1996
Page 32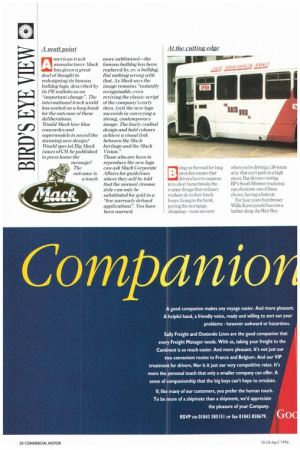 Page 32, 18th April 1996 —
A mutt point 0 merican truck , manufacturer Mack has
Close
given a great deal of thought to redesigning its famous bulldog logo, described by its PR wallahs as an "important change". The international truck world has waited on a long leash for the outcome of these deliberations.
Would Mack hire blue concordes and supermodels to unveil the stunning new design? Would special Big Mack issues ofCM be published to press home the message? The outcome is a touch more subliminal—the famous bulldog has been replaced by, er, a bulldog. But nothing wrong with that. As Mack says the image remains "instantly recognisable, even reviving the classic script of the company's early days, (yet) the new logo succeeds in conveying a strong, contemporary image. The finely crafted design and bold colours achieve a visual link between the Mack heritage and the Mack Vision."
Those who are keen to reproduce the new logo can ask Mack Corporate Affairs for guidelines where they will he told that the normal chrome style can only be substituted for gold in a "few narrowly defined applications". You have been warned.