Called to the bar
18th April 1996
Page 30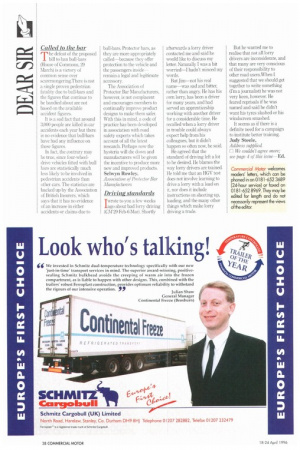 Page 30, 18th April 1996 —
Called to the bar
Close
The defeat of the proposed bill to ban bull-bars (House of Commons, 29 March) is a victory of common sense over scaremongering.There is not a single proven pedestrian fatality due to bull-bars and the figures that continue to be bandied about are not based on the available accident figures.
It is a sad fact that around 3,000 people are killed in car accidents each year but there is no evidence that bull-bars have had any influence on these figures.
In fact, the contrary may be true, since four-wheeldrive vehicles fitted with bull bars are statistically much less likely to be involved in pedestrian accidents than other cars. The statistics are backed up by the Association of British Insurers, which says that it has no evidence of an increase in either accidents or claims due to
bull-bars. Protector bars, as they are more appropriately called—because they offer protection to the vehicle and the passengers inside remain a legal and legitimate accessory.
The Association of Protector Bar Manufacturers, however, is not complacent and encourages members to continually improve product designs to make them safer. With this in mind, a code of practice has been developed in association with road safety experts which takes account of all the latest research. Perhaps now the hysteria will die down and manufacturers will be given the incentive to produce more new and improved products, Selwyn Rowley, Assoc/a/ion of Proledor Bar Manufacturers