Court is convinced by brake argument
18th April 1996
Page 24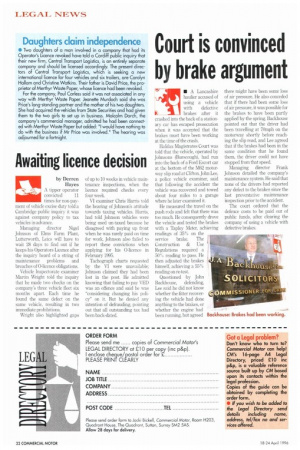 Page 24, 18th April 1996 —
Court is convinced by brake argument
Close
• A Lancashire haulier accused of using a vehicle
with defective
brakes after it crashed into the back of a stationary car has escaped prosecution when it was accepted that the brakes must have been working at the time of the crash.
I Ialifax Magistrates Court was told that the vehicle, operated by Johnsons (Burscough), had run into the back of a Ford Escort car at the bottom of the M62 motorway slip road at Clifton. John Lee, a police vehicle examiner, said that following the accident the vehicle was recovered and towed about four miles to a garage where he later examined it.
Questioned by John Backhouse, defending, Lee said he did not know whether the fitter recovering the vehicle had done anything to the brakes, or whether the engine had been running, but agreed
there might have been some loss of air pressure. He also conceded that if there had been some loss of air pressure. it was possible for the brakes to have been partly applied by the spring Backhouse pointed out that the driver had been travelling at 70mph on the motorway shortly before reaching the slip road, and Lee agreed that if the brakes had been in the same condition that he found them, the driver could not have stopped from that speed.
Managing director Frank Johnson detailed the company's maintenance system. He said that none of the drivers had reported any defect to the brakes since the last preventative maintenance inspection prior to the accident.
The court ordered that the defence costs to be paid out of public funds, after clearing the company of using a vehicle with defective brakes.