Operator wins third licence
18th April 1996
Page 22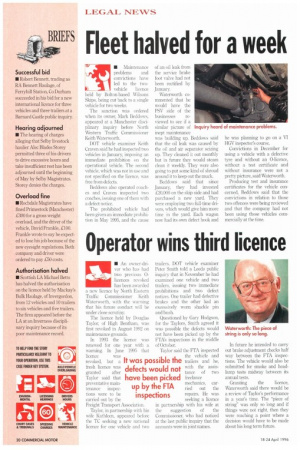 Page 22, 18th April 1996 —
Operator wins third licence
Close
• An owner-driver who has had two previous 0licences revoked has been awarded a new licence by North Eastern Traffic Commissioner Keith Waterworth, with the warning that his future conduct will be under close scrutiny'.
The licence held by Douglas Taylor, of High Bentham. was first revoked in August 1992 on maintenance grounds.
In 1993 the licence was renewed for one year with a warning. In June 1995 that licence was revoked, but a fresh licence was granted after Taylor said that preventative maintenance inspections were to be carried out by the Freight Transport Association.
Taylor, in partnership with his wife Kathleen, appeared before the TC seeking a new national licence for one vehicle and two
• a.,
trailers. DOT vehicle examiner Peter Smith told a Leeds public inquiry that in November he had examined one vehicle and two trailers, issuing two immediate prohibitions and two defect notices. One trailer had defective brakes and the other had an excessively worn shackle pin and bush.
Questioned by Gary Hodgson, for the Taylors. Smith agreed it was possible the defects would not have been picked up by the FTAs inspections in the middle of October.
Taylor said the FTA inspected the vehicle and trailers and he, with the assistance of two freelance mechanics, carried out the repairs. He was seeking a licence in partnership with his wife at the suggestion of the Commissioner, who had noticed at the last public inquiry that the accounts were in joint names. ln future he intended to carry out brake adjustment checks half way between the FTA inspections. The vehicle would also be submitted for smoke and headlamp tests midway between its annual tests.
Granting the licence, Waterworth said there would be a review of Taylor's performance in a year's time. The "piece of string" was only so long and if things were not right, then they were reaching a point where a decision would have to be made about his long term future.