Fleet halved for a week
18th April 1996
Page 22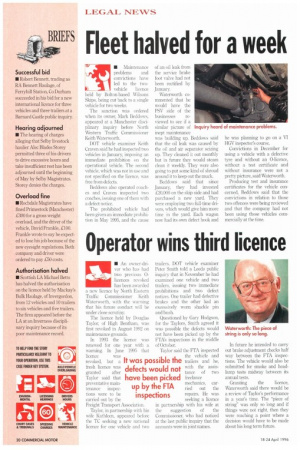 Page 22, 18th April 1996 —
Fleet halved for a week
Close
• Mail Renal ice problems and convictions have led to the two
-6i_ vehicle licence
held by Bolton-based Wilsons Skips, being cut back to a single vehicle for two weeks.
The sanction was ordered when its owner, Mark Beddows, appeared at a Manchester disciplinary inquiry before North Western Traffic Commissioner Keith Waterworth.
IX)T vehicle examiner Keith Craven said he had inspected two vehicles in January, imposing an immediate prohibition on the operational vehicle. The second vehicle, which was not in use and not specified on the licence, was free from defects.
Beddows also operated coaches and Craven inspected two coaches, issuing one of them with a defect notice.
The prohibited vehicle had been given an immediate prohibition in May 1995, and the cause of an oil leak from the service brake foot valve had not been rectified by January.
Waterworth commented that he would have the PSV side of the
businesses reviewed to see if a
similar picture of Inquiry heard inept maintenance was building up. Beddows said that the oil leak was caused by the oil and air separator seizing up. They cleaned it out monthly but in future they would steam clean it weekly. They were also going to put some kind of shroud around it to keep out the muck.
Beddows said that since January. they had invested £20,000 on the skip side and had purchased a new yard. They were employing two full-time drivers, which would give him more time in the yard. Each wagon now had its own defect book and he was planning to go on a VI HGV inspector's course.
Convictions in December for using a vehicle with a defective tyre and without an 0-licence, without a test certificate and without insurance were not a pretty picture, said Waterworth.
Producing test and insurance certificates for the vehicle concerned. Beddows said that the convictions in relation to those two offences were being reviewed and that the company had not been using those vehicles commercially at the time.